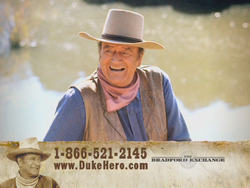 We knew Northern Lights would deliver a commercial that celebrated the legacy of the Duke and was built on a strong direct response foundation
Chicago, IL (PRWEB) May 31, 2010
The Bradford Exchange, a leading direct marketer of collectibles, has launched a direct response television (DRTV) campaign created by Northern Lights Direct Response for the Duke-Western Hero, a wall art sculpture inspired by the pistol John Wayne carried in many of his most famous Westerns.
The campaign consists of a 120- and 60-second DRTV commercial. Northern Lights will also handle the media buy.
"We knew Northern Lights would deliver a commercial that celebrated the legacy of the Duke and was built on a strong direct response foundation," says Nick DiMarco, Corporate Vice President and General Manager for The Bradford Exchange.
"John Wayne is a true American hero," says Ian French, President of Northern Lights. "It was a pleasure and honor to work with The Bradford Exchange and John Wayne Enterprises to offer this unique wall art sculpture to the American public."
The campaign rolled out this month.
Northern Lights Direct Response is a leading brand direct response agency in North America. We offer full turnkey strategy, direct response media, creative and production services in both the U.S. and Canada for Direct Response Television, Direct Response Online and Direct Response Radio campaigns. Clients include: Sports Illustrated, John Hancock, Bell, SickKids Foundation, TD Bank Financial Group, DIRECTV, Scholastic and Yves Rocher. For more information, visit http://www.nldrtv.com.
# # #