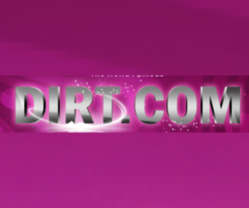 Get The Dirt on Anyone, Anytime, Anyplace With Dirt.com's New DirtBlurb. -Andy Jacob, CEO
Palo Alto, CA (PRWEB) July 01, 2012
Dirt.com, a leading provider of digital entertainment is releasing DirtBlub in Beta this week. Elements of this roll-out can already be seen on Dirt.com, and according to Andy Jacob, Founder and CEO of Dirt.com, DirtBlurb is a fast, easy, and free way to find out the dirt, news, and gossip about your friends, neighbors, relatives, and co-workers.
Jacob says that while the DirtBlurb is still in BETA, the ultimate plan for DirtBlurb is to provide the public a centralized location to easily receive any and all dirt about a person or company, including criminal behavior, warrants, misdemeanors, arrests, and felonies, In addition, DirtBlurb will identify incarcerations, convictions, criminal driving violations, suspicious online activity, and online gossip and online dirt about anyone or anything.
Jacob says, "Our research shows us that people simply cant get enough dirt. Not only do they want the dirt on celebrities, but they want the dirt on people they know as well". "Facebook and Twitter profiles only offer what the account holders want you to know about them. With our DirtBlurb, everything will be out in the open for everyone to see." "Our research shows us that Dirt on regular people is perfect addition to our online media line-up."
About Dirt.com
Dirt.com is in the business of providing digital entertainment to the masses. Dirt.com's DirtBlurb offers real time information about people, places and things, and empowers people's decision making through information and online intelligence The company's guiding mission is to become the leading provider of digital entertainment and online intelligence services. The Dirt.com DirtBlurb search platform, recently introduced in Beta, places the power of information in the hands of the consumer. The platform is committed to helping every individual use the Internet to empower themselves to be able to make informed , intelligent decisions regarding their live, the people they know, and the world around them. Dirt.com is lead by Founder and CEO Andy Jacob, and a team of experienced and successful entrepreneurs, technology gurus , and inline visionaries who believe in the power of entertainment, the power of information and power of the people . The Dirt.com team is committed and passionate about making its DirtBlurb the most widely recognized and trafficked people dirt engine on the Internet today .To learn more about the DirtBlurb , visit http://www.Dirt.com