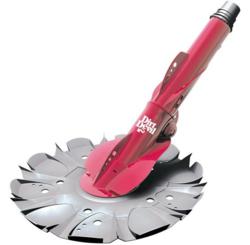 St. Paul, Minnesota (PRWEB) May 31, 2012
PcPools, one of America's leading direct marketers of pool supplies for residential and commercial pool owners, confirms that it is an authorized dealer for Dirt Devil. Dirt Devil is a premier manufacturer of high quality automatic commercial and residential pool cleaners. PcPools' now proudly sells Dirt Devil automatic pool cleaners for above ground pools. It's a quality product that Dirt Devil stands behind; its pool cleaner is backed by a two year manufacturer's warranty.
Marketing Director Steven Anderson had this to say: "PcPools has been a leading retailer of Dirt Devil automatic pool cleaners for approximately 10 years, and is proud to be an authorized dealer. We always strive to maintain a premier selection of pool cleaning options, and Dirt Devil's suction style automatic pool cleaner is a perfect example of that."
He continued: "We actually encourage pool supply customers to only buy products from authorized dealers, because when you buy from an authorized retailer like PcPools you are assured a high level of reliability and honesty. This is because we buy directly from manufacturers and equipment distributors that demand integrity, value, and quality customer service. In turn, we can provide our customers products fresh from the factory with a full manufacturer's warranty. Our continued relationship with Dirt Devil allows us to do this with their line of premier automatic pool cleaners. PcPools is pleased to be an authorized dealer of Dirt Devil and looks forward to all of the opportunities it affords us."
About PcPools
PcPools is one of America's leading multi-channel direct marketers of swimming pool supplies and equipment to the residential and commercial markets in the United States. Founded in 2000 by a leading executive in the pool supplies industry, it has since been dedicated to providing residential and commercial pool owners with high quality swimming pool supplies and equipment at warehouse direct prices. PcPools also strives to maintain an updated Pool Library to help educate customers on industry products. PcPools' product line – all of which is sold through our catalog and internet channels – includes above ground pools, automatic pool cleaners, pool liners, pool heaters, pool chemicals, pool covers, and other pool accessories. PcPools' strong relationship with leading pool supply manufacturers and distributors creates a truly unique combination of quality product at excellent value for its customers.
About Dirt Devil
Dirt Devil, headquartered in Glenwillow, OH, is a leading manufacturer of automatic pool cleaners. Dirt Devil strives to recognize the needs of its customers and supply them with quality products that to provide the perfect cleaning solution. These philosophies have enabled Dirt Devil to build brand loyalty derived from strong consumer satisfaction.
Note to Editors: If you are interested in viewing addition information about PcPools or Dirt Devil please visit the following websites:
http://www.PcPools.com
http://www.dirtdevil.com
For additional information contact:
Ted Robinson
Marketing Director
PcPools
877-727-6657