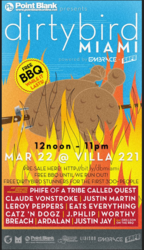 Miami, FL (PRWEB) March 21, 2012
On Thursday March 22 Stunner of the Month and DirtyBird are teaming up to bring music, fashion and food together for a day of BBQ and beats at downtown Miami's stunning Villa 221 gardens. The unforgettable day will feature musical guests Claude VonStroke, Justin Martin, Leroy Peppers, Eats Everything, Catz n Dogz, J Phlip and a very special sunset guest appearance from Phife Dawg of A Tribe Called Quest.
Thursday's party kicks off a 4-month international tour with stops in London, Paris and Los Angeles.
The sunglasses subscription company will unveil their limited edition DirtyBird stunner, free for the first 300 guests at Villa 221. Stunner of the Month founders will be on hand to personally deliver their unbranded shades, and special promotions will be offered to new customers.
DirtyBird, the quintessential house music and epic BBQ masters of San Francisco, partnered with the sunglasses company after spotting the company's founders sporting fresh, unlabeled shades at their Golden Gate Park parties.
"It seemed natural that we collaborate and produce a hot item exclusively for DirtyBird," co-founder Todd Smith said. "We've admired their music and energy for years. As a company, we're thrilled to join their tour and stun worldwide." Since its launch in 2009, Stunner of the Month has worked with independent artists and tastemakers, understanding and appreciating the natural union between art, music and fashion.
To purchase tickets to Thursday's event, please visit: http://www.residentadvisor.net/event.aspx?334304
To learn more about Stunner of the Month or to place an order visit http://www.StunnerOftheMonth.com.
To learn more about DirtyBird, please visit: http://www.dirtybirdrecords.com/
Stay up-to-date on the latest eyewear trends by following on Facebook, Twitter, Instagram, and Soundcloud.
Launched in 2009, Stunner of the Month isn't just a club, it's a lifestyle. The monthly sunglasses subscription service encourages subscribers to make each pair of unbranded shades their own. Wear January's Stunners in September. Share a pair with a friend. Give a pair to get a number. Wear two at the same time. It doesn't matter. With this mentality in mind, the San Francisco based start-up supplies rare, fashion eyewear to thousands of "stunsetters" in all 50 states, and the District of Columbia and internationally to over 15 countries.
The now legendary Golden Gate BBQ's in San Francisco, was the brainchild of the four original Dirtybird members, Christian Martin, Claude VonStroke, Justin Martin and Worthy. They had a personal mission to change the landscape of San Francisco house music by throwing an epic free party in the park based on their new signature sound. With nothing to lose and everything to gain, they assembled the line-up themselves and Christian bought a massive, yet necessary sound system on his credit card. This was the beginning and set the standard for a new era of die-hard dedicated DIY producers, all with new productions based on heavy bass-lines, smiling faces and dance floor delights. Three years on the label was created by Claude VonStroke solidifying the Dirtybird mandate.
Members of the media: please RSVP in advance with name, contact info (include email and phone) and media affiliation to CONTACT ASAP to receive additional details, schedule an interview, and/or participate in Thursday's event.