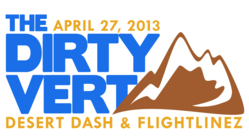 "When else do you get the chance to race up a mountain and then save your knees by ziplining down? It's a fun day all-around with great people *and* part of your entry fee goes toward helping local students get the support they need to be successful"
Boulder City, NV (PRWEB) April 24, 2013
It's the Second Edition of The Dirty Vert, the only trail running event in Las Vegas where participants get to run up Red Mountain and ride the Flightlinez Bootleg Canyon ziplines back down! Get ready for this exciting, unique event!
Who:
Flightlinez Bootleg Canyon zipline attraction & Desert Dash
What:
The Dirty Vert will be donating a portion of the proceeds to the Boulder City High School Student Success Fund to help students who might not otherwise be able to afford the application fees or testing fees associated with attending college.
The Dirty Vert
In starting waves of 50 runners, you will race on foot to the top of Red Mountain in Bootleg Canyon where you will cross the finish line, then proceed to ride the four zip lines back down to the gazebo area where we'll be waiting with awards, food, and more!
There are 200 slots total available, with 50 in each wave. We'll have two waves in the morning at 8:00am and 9:00am, and two waves at night at 7:00pm and 8:00pm. There will be a mandatory zip line safety meeting and equipment demonstration 30 minutes before each wave at the Bootleg Canyon gazebo. For example, if participating in Wave 2 at 9:00am, attendance is required at the 8:30am safety meeting.
There is no age limit for this event, but due to the requirements on the zip lines, participants must weigh between 75 and 250 pounds.
Flightlinez is committed to serving the community. Both locations in the Las Vegas area, Flightlinez Las Vegas on The Fremont Street Experience and Flightlinez Bootleg Canyon, hold charity events to support both local and national causes in an effort to both increase awareness and give the community a way to really enjoy giving back.
Location:
Flightlinez Bootleg Canyon Office
1512 Industrial Rd
Boulder City, NV 89005
Cost:
$110 - $165 depending on which wave is chosen to race in.
Additional Information:
About Flightlinez:
Flightlinez Bootleg Canyon opened to the public in August 2008. A portion of each ticket goes back to assist with keeping Bootleg Canyon Park open to the public and preserved for everyone to enjoy. To date Flightlinez has given back over $500,000.00 to Boulder City to assist in these efforts. Flightlinez Bootleg Canyon is part of a global conservation company, Greenheart, LLC. To find out more information on Greenheart, LLC please visit: http://www.greenheart.ca
Desert Dash:
Started in 2006, is the oldest, largest trail running company in Las Vegas. In 2013 they have 5 races scheduled for the year, 2 of which in the fall are as-of-yet unannounced. Desert Dash was purchased in January of 2013 by 3 gentlemen after falling in love with trail running. The trio is excited to see what they can do with the company and how they can benefit the runners at all their events!
All of our races are done on challenging, but doable courses that they always run beforehand...They won't put a runner on a course they're not familiar with themselves.
For more information on Flightlinez Bootleg Canyon please visit http://www.flightlinezbootleg.com or call 702-664.4256.
For More Information on Desert Dash
visit: http://www.desertdash.com
Contact: Rob(at)desertdash(dot)com
If you plan on sending a camera, please contact Brina Marcus as soon as possible for security clearance
brina(at)flightlinez(dot)com or 702-664-4256.
For media information, please contact:
Brina Marcus
Flightlinez
702.664.4256
brina(at)flightlinez(dot)com