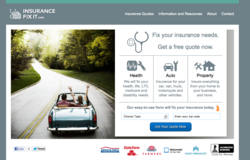 Most people are more inclined to buy life insurance before disability insurance, but it is more likely that a person may become disabled for at least a year than for them to become deceased
Baltimore, MD (PRWEB) January 22, 2013
Recent news reports show that Social Security Disability Insurance may not be adequate for the needs of today's workforce. In 1970, there were about 1.3 percent of working aged adults receiving some kind of disability benefit; and in 2011 there were 4.5 percent. Politicians continue to debate on the availability and the extent of coverage that will be provided through Social Security.
According to InsuranceFixIt, there are several types of disability insurance coverage outside of Social Security Disability Insurance. Consumers can purchase private disability insurance coverage, and entrepreneurs and businesses are wise to consider the purchase of Key-Person Disability Insurance and Business Overhead Disability Insurance.
"Most people are more inclined to buy life insurance before disability insurance, but it is more likely that a person may become disabled for at least a year than for them to become deceased." said Michele Postler, Senior Editor for InsuranceFixit.com. "There are more and more people that need disability insurance and one of the reasons of this is that there are more people in the workforce, including women, who are entitled to benefits if needed." Said Postler.
InsuranceFixIt.com has released a new section to their website that details many of the things that consumers should be aware of when shopping for Disability Insurance.
The InsuranceFixIt guide on Disability Insurance coverage includes:

Determining what is covered by a disability insurance policy.
How to choose a policy with the appropriate disability duration.
Warnings on waiting periods with private and social security disability insurance.
And many more.
To find out more about InsuranceFixIt and the other helpful disability insurance tips, please visit: http://insurancefixit.com/disability/
About InsuranceFixIt
InsuranceFixIt.com provides disability insurance quotes. InsuranceFixIt.com features a variety of articles and resources about Disability Insurance and a wide variety of other Insurance resources. InsuranceFixit is a member of PRprofile. A site dedicated to helping businesses maximize their online publicity. For more information about InsuranceFixIt, please visit: http://InsuranceFixIt.com/