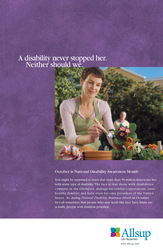 Belleville, Ill. (Vocus) October 2, 2008
Today about 50 million Americans, or one in five people, have some level of disability, according to the Centers for Disease Control and Prevention. October provides an opportunity to highlight the broad needs, experiences and contributions of people with disabilities each year during National Disability Awareness Month. Organizations, including Allsup, which is a national Social Security Disability Insurance representation company, are helping to draw attention to this month's observance.
Disabilities are broad-ranging and cover all aspects of the human body's structure and function. The CDC provides a sizable resource on its "Disease & Conditions" section at http://www.cdc.gov. Materials cover symptoms, reports and a variety of information specific to conditions such as diabetes, heart disease and arthritis. CDC research shows that people with disabilities generally report poorer health than people without disabilities, and one of its objectives is promoting health and well-being among people of all ages with disabilities.
The U.S. Census Bureau provides additional insights, in a recent fact sheet, on the health, work and life experiences of people with disabilities:

1 million people age 15 and older cannot hear.
1.8 million people age 15 and older are unable to see.
2.7 million people age 15 and older use a wheelchair.
14.3 million people have limitations in cognitive functioning, or mental/emotional illness.
56 percent of people with a disability (ages 21 to 64) worked sometime during the past year.
During October, people and organizations across the country are recognizing the value of every person's life and possibility to maximize that life, no matter the type or severity of their disabilities.
Allsup is observing National Disability Awareness Month with free posters available to healthcare facilities, clinics and other community groups by calling Karen Hercules-Doerr at (800) 854-1418, ext. 5770.
Media contact:
Centers for Disease Control and Prevention
Amanda Aldridge
(404) 498-3093
cdcinfo @ cdc.gov
http://www.cdc.gov
Free posters:
Allsup
Karen Hercules-Doerr
(800) 854-1418, ext. 5770
k.hercules-doerr @ allsupinc.com
###