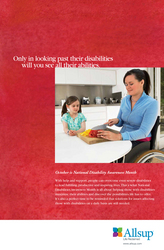 Belleville, Ill. (Vocus) September 18, 2009
More than 13 million Americans between ages 16 and 64 say they have a medical condition that makes it difficult to find a job or remain employed, which is nearly 13 percent higher than two years ago, according to the U.S. Census Bureau. Many more individuals have some level of disability, and October provides an opportunity to highlight their contributions and needs during National Disability Awareness Month. Organizations, including Allsup, a nationwide provider of Social Security disability representation and Medicare services, are helping to draw attention to this month's observance.
Disabilities can result from chronic illness, injury or a combination of conditions affecting individuals. Earlier this year, the Centers for Disease Control and Prevention said more adults -- one in five -- report that they have a disability. The CDC estimates 47.5 million people in the United States have a disability. The incidence of disability increases as people age. A CDC study found that 11 percent of those ages 18 to 44 have a disability. The amount increased to 23.9 percent for ages 45-65, and 51.8 percent for ages 65 and older.
The five most common causes of disability among U.S. adults are arthritis or rheumatism, back or spinal problems, heart trouble, mental or emotional problems, and lung or respiratory problems, according to the CDC. Rounding out the top 10 causes are diabetes, deafness or hearing problems, stiffness or deformity of limbs/extremities, blindness or vision problems, and stroke. The number of adults with a disability is likely to increase as the larger population of baby boomers grows older, said CDC officials.
Other conditions that cause disability in adults include cancer, autoimmune diseases and immune disorders, chronic obstructive pulmonary disease, neurological and degenerative diseases such as Parkinson's disease and ALS (Lou Gehrig's Disease). The U.S. Census Bureau also reports that nearly 11 million Americans, age 6 and older, need personal assistance with everyday activities.
During October, communities, organizations and people from all walks of life will make a point to recognize the value of every individual and their opportunity to get the most out of their life, no matter the severity or type of disability.
Allsup is observing National Disability Awareness Month with free posters available to healthcare facilities, clinics and other community groups by calling Karen Hercules-Doerr at (800) 854-1418, ext. 5770.
Free posters:
Allsup
Karen Hercules-Doerr
(800) 854-1418, ext. 5770
k(dot)hercules-doerr(at)allsupinc(dot)com
http://www.allsupcares.com
Media contact:
Allsup
Rebecca Ray
(800) 854-1418, ext. 5065
r(dot)ray(at)allsupinc(dot)com
###