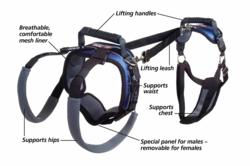 Harness For Incapacitated Dogs.
(PRWEB UK) 12 September 2012
Easy Animal are delighted to announce the UK launch of an exciting innovative product to help incapacitated dogs to become more mobile. The new Solvit Carelift dog harnesses have been designed to help dogs with an impairment to increase their mobility and quality of life.
Whether its just helping a dis-advantaged dog to get into a car or onto a sofa, or as a means of therapy to regain their health these new harnesses are designed to help move a dog in a pain free way increasing their mobility.
These new harnesses are a real aid to a dog that is struggling through injury or old age and they offer dog owners in these sort of situations real hope. In the past owners have struggled to lift an injured dog and this perhaps can cause discomfort and pain to the animal, these new harnesses support the dogs weight evenly and this helps to move the dog in a more humane and comfortable manner.
The harnesses come in two main types a rear lift harness and a full body harness, each type available in two sizes. Sophie Berrisford marketing manager at Easy Animal said 'It's early days yet but the response on the dog harnesses has been really positive these should allow disabled dogs a new lease of life and help many dogs on their road to recovery.'
For further details on these Solvit Careflift harnesses, please contact Easy Animal on sales (at) easyanimal (dot) co (dot) uk or call 0845 180 1010