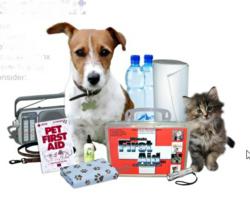 Leaving pets behind during an evacuation, even if you try to create a safe place for them, could have fatal consequences.
King, NC (PRWEB) July 12, 2012
As wildfires continue to rage in many Western states and tropical storms along the East Coast put lives and property in danger, many Americans are faced with the possibility of forced or voluntary evacuations. The majority of those families in harm's way have more than just themselves to think about. According to the American Pet Products Association, 62 percent of U.S. households own pets—and these pet owners are faced with the challenge of what to do with their pets when disaster strikes.
In FEMA's tips for evacuating during a wildfire, the organization recommends remembering the "5 P's": People and Pets, Papers, Prescriptions, Pictures and Personal Computer.
For pet owners, planning to evacuate with pets is vital.
"Leaving pets behind, even if you try to create a safe place for them, could have fatal consequences," warns Jordan Di Marco, 2011 PSI Pet Sitter of the Year™ and owner of Dogma Catma Pet Sitting in Boulder, Colo.
Instead, Di Marco advises pet owners to plan in advance and include their pets in their disaster plan.
"It is important for pet owners to know how to ready themselves and their pets in a moment's notice, she says. "This will be of tremendous help when seconds count."
Pet Sitters International (PSI) urges pet owners to prepare for disaster and offers three tips for creating a pet-friendly disaster plan:
1. Find a safe place for your pet to go. Most Red Cross disaster shelters cannot accept pets because of state health and safety regulations and other considerations. Research your local community resources to see which shelters may allow pets or find pet-friendly hotel options on your evacuation route. Consult with professionals, such as your veterinarian or pet sitter, or out-of-town family and friends to identify a safe place for your pet in the event of a disaster. Have this information handy should you need to evacuate on short notice.
2. Assemble a portable pet disaster supplies kit. Whether a disaster keeps you from your home for days or weeks, you will need essential supplies to care for your pets. Keep items such as crates, food and water bowls, collars, leashes and important veterinary and vaccination records in a sturdy, waterproof storage container that can be easily carried. Make sure that each pet crate is marked with your pet's name, your name and contact information.
3. Identify a backup pet caretaker. In the event that disaster strikes when you are away from home or if unforeseen circumstances prevent you from returning home to rescue your pets, identify an alternate caretaker, such as your professional pet sitter or a neighbor. Make sure the selected person is aware of your disaster plan and can easily locate your pets and pet disaster supplies kit in your home. Put this plan in writing as the caretaker may need to show proof of your permission to access your home in your absence.
Di Marco also advises pet owners to pack one more item in the event of evacuation—a photo of them with their pet.
"If you become separated this may be your only proof of ownership," she warns.
For more information on preparing for a disaster, pet owners are encouraged to visit The PSI Blog. To learn more about PSI or to locate a professional pet sitter in your area, please visit http://www.petsit.com/locate.
###
About Pet Sitters International:
Founded by Patti Moran in 1994, Pet Sitters International (PSI) is the world's largest educational association for professional pet sitters, representing more than 7,000 independent professional in-home pet care businesses in the United States, Canada and abroad. PSI provides members with access to affordable bonding and liability insurance as well as educational resources that include a comprehensive Certification Program, Pet Sitter's WORLD magazine, The Scoop e-news and PSI's annual Quest convention. For more information, visit http://www.petsit.com, home of the Official Pet Sitter Locator™ or sign up to receive The Scoop on Pet Care. Visit the PSIStoreOnline, the largest specialty retailer of products for pet sitters and pet-sitting business owners.