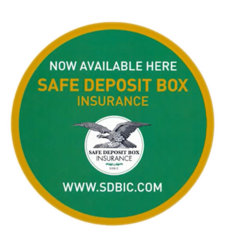 If those boxes [affected by Superstorm Sandy] had been insured, the resulting economic loss would have been reduced or eliminated.
New York, NY (PRWEB) February 25, 2013
Hurricane Sandy provided further proof that a disaster preparation plan that includes renting an insured safe deposit box should be part of every household's plan; and SDBIC, the nation's sole provider of complete safe deposit box insurance, announced that more banks and credit unions now offer box holders convenient policies to protect against potential property loss in case of a major adversity.
Environment America, a national environmental advocacy group, released its report "When it Rains, it Pours: Global Warming and the Increase in Extreme Precipitation from 1948 to 2011", which found some extreme weather events are becoming more frequent. Collecting data from nearly 65 years of weather history, the report sees a 30 percent increase in the frequency of extreme storms, even impacting geographic areas not historically exposed to such catastrophic events.
Senator Dick Durbin, from Illinois said, "We are ignoring the obvious - our extreme weather events are getting worse, catastrophic in fact. We need to begin to address the reality that there will be more extreme weather events and ensure that we are taking the necessary steps to protect ourselves."
With disaster preparation becoming a concern in all levels of society, a well-designed disaster plan should include renting an insured safe deposit box. Safe deposit boxes are infinitely preferable to home safes. Homes are much more likely to be damaged or destroyed due to a catastrophic event than a box in a financial institution with a vault, security and alarms.
Even financial institutions are susceptible to damage from catastrophes. "All safe deposit boxes are termed fire-resistant and water-resistant, but that does not mean they are completely immune to fire and flood," said Doug Johnson, vice president of risk management at the American Bankers Association. And contrary to a commonly held belief, neither the Federal Deposit Insurance Corporation (FDIC) nor the National Credit Union Administration (NCUA) insures safe deposit box contents. Should an event compromise a safe deposit vault and its boxes, the financial institution is not liable for loss or damage to the box contents, and most standard homeowner's policies provide limited or no coverage, which explains the increased demand for safe deposit box insurance.
NBC News reported that the insurance industry estimated total insured losses due to Super storm Sandy at between $5 billion and $15 billion. Timothy E. Mackey, fidelity bond claim director for property and casualty insurer CNA Financial, says safe deposit boxes affected by Sandy probably numbered in the thousands. "If those boxes had been insured, the resulting economic loss would have been reduced or eliminated," said Jerry Pluard, President of SDBIC. "With the growth of virtual banking many people today fail to take advantage of the superior value a safe deposit box can provide. When you consider
heirloom jewelry worth $3,000 a decade ago is now probably valued over $10,000, this jewelry should be stored in a safe deposit box. The ability to place that jewelry in the box and have it automatically insured is an added convenience and protection ".
The innovative insurance program from SDBIC does not require box content disclosure, or appraisals. All of the contents are covered under the same policy, and items can be added or removed from the box at any time, even when a catastrophe appears imminent. The box holder selects the amount of coverage desired, and in the event of a disaster of any nature, all property stored in the box is protected up to the selected amount.
SDBIC insurance is available through many banks and credit unions offering safe deposit box services, or directly from SDBIC at http://www.sdbic.com.
About SDBIC
Founded to fill a void in the insurance market, SDBIC's mission is to promote the benefit of using a safe deposit box as a personal safe haven, where property can be stored and conveniently insured at an affordable cost without disclosure of the contents in the box.