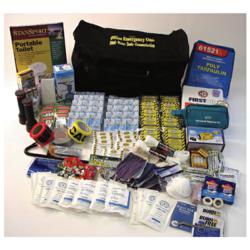 Once you have assembled your kit, you will have more confidence and peace of mind knowing that your 72 hour kit will support you and your family in an emergency
Dublin, CA (Vocus/PRWEB) May 27, 2011
It is difficult to predict when a natural or man made disaster will occur. The San Francisco Examiner reported last month that seismologists predict the Hayward fault, which runs directly under the East Bay's western lowlands and last gave way in 1868, is due for a dramatic lurch: "an earthquake powerful enough to cripple transportation systems, destroy neighborhoods and kill hundreds of people." Being prepared is the best defense to possible devastation—and knowing which items to keep in an emergency arsenal is essential to survival in the aftermath of a disaster. The Panic Store, a leading online disaster recovery expert, offers a list of items everyone should store in an accessible place, just in case.
http://www.sfexaminer.com/local/bay-area/2011/04/seismologists-say-bay-area-due-major-earthquake-could-cripple-region
"Once you have assembled your kit, you will have more confidence and peace of mind knowing that your 72 hour kit will support you and your family in an emergency," says Ken Minard of The Panic Store. "It is a much better plan to be prepared than to hope that everything will work out."
The Panic Store recommends assembling the following items for a disaster preparedness kit to get the family through the first 72 hours:
1. Water – Most importantly, you should store one gallon of water per person per day for 3 days for both drinking and sanitation. Ideal containers are 5 gallon water bottles.
2. Food – Pack non-perishable, high protein items; include energy bars, ready to eat soups, peanut butter. Select foods that require no refrigeration, preparation or cooking, and require little or no water.
3. Pets – Store food and extra water for your pets, about ½ gallon of water per pet a day. Include leash, litter box or plastic bags, tags, any medications, and vaccination information.
4. Medications (prescription and non-prescription) - If you have medications that you have to take on a regular basis, you need to keep at least 3 days worth in your 72 hour kit. Add extra eye glasses or contacts if you need them to see.
5. Flashlight and battery powered or hand crank radio – Be sure to include extra batteries.
6. First aid kit with a reference guide - The all purpose kits have the items for most potential emergencies at home, in the car, outdoors or on the water.
7. Important family documents – Fill a waterproof container with important papers, such as copies of insurance policies, identification, pictures of every member of the family, bank records and out of state phone numbers of family or friends that can be emergency contacts.
8. Comfort items - Toys, books, games, puzzles and deck of playing cards can be used to pass the time. Don't forget paper and pencils.
9. Money - Have cash since ATMs and credit cards will not work if the power is out. $30 or $40 in smaller currency like one, five and ten dollar bills is ideal.
10. Clothing, blankets and sleeping bags- Provide a change of clothes for everyone, including sturdy shoes and gloves. You should either carry clothes for both summer and winter or change the clothing contents of your kit every spring/fall.
11. Sanitary supplies – Include toilet paper, towelettes, feminine supplies, personal hygiene items and bleach. Toothbrush, toothpaste, wet naps, bar of soap, shampoo and conditioner, dental floss pick, hand and body lotion, deodorant gel, twin blade razor, black comb, maxi pads, shaving cream packet, washcloth and pocket tissue packs in your kit.
12. Additional items - You may want to consider packing waterproof matches, mess kit, paper cups, plates, plastic utensils, utility knife, plastic sheeting, duct tape, dusk mask and garbage bags.
For more information about disaster preparedness kits or any of The Panic Stores products or tips, call them at (800) 265-5749 or visit them on the web at http://www.thepanicstore.com.
About The Panic Store
The Panic Store is a one stop and shop website for all brands, sizes and types of Earthquake Kits, Emergency Survival Kits and Emergency Supply Products for Disaster Preparedness serving the San Francisco and Bay Area.
###