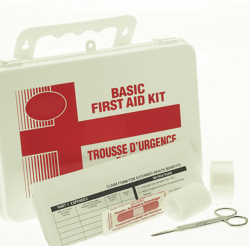 Over half of respondents are unprepared for a disaster.
Overland Park, KS (PRWEB) February 27, 2012
Disaster preparedness isn't always top of mind. In fact, many of us do not think about it until it's too late. According to a February Persuadable Research Corporation survey, over half of respondents believe that they are unprepared for a disaster.
What motivates people to prepare for disasters? Mainly personal experience. The vast majority, 82%, of those who were now prepared said that they had a previous brush with a disaster of some sort. Also, from those who were prepared, 27% were ready because they wanted to be able to care for other family members in the home such as children, grandchildren or even a spouse.
Why aren't people prepared? It seems that 38% have never thought about it much. Nearly half, 48%, stated that they don't have the money to prepare and 15% claim that they don't have time. One out of five respondents said they intend to "just wing it" if a disaster strikes. The remainder pointed to reasons such as someone else is preparing on their behalf or that they live in an area without natural disasters.
Is the Federal Government going to save us? There's a lot of doubt out there about this. It seems that 28% are unsure if the government would be able to handle a major natural disaster in their area, while another 30% of panelists flat out think they can't. "After seeing the Katrina mess and resulting federal help, if you can call it that, I have little to no faith in the federal government", said one respondent.
The numbers are even worse when asked about man-made disasters. In this case, 41% were unsure and 35% said the government would not be able to handle it. Additionally, 68% believe that the government is not doing enough to educate the public. A majority of panelists, 66%, had never even heard of the government website http://www.Ready.gov which is devoted to the topic.
For those who don't believe they have enough time or money to prepare, they might try purchasing one item per week or month for a disaster kit. At least this way, they will eventually be prepared. Moreover, those who don't understand their insurance policies might want to take a moment to discuss their coverage with their agent.
This study may have a silver lining. Among those who think the government would be able to respond to disasters, most think it will only take about a week to do so. This is good news for those who are simply going to wing it.
Persuadable Research Corporation is a full service online market research company. Our high-tech structure is a powerful alternative to old line research companies. From software to brain power Persuadable Research drives growth, solves complex marketing issues, and turns marketing problems into opportunities. You can get paid to take online surveys by visiting our panel site.
# # #