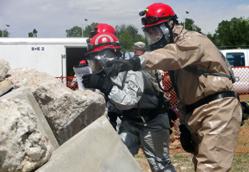 What's great about the location at Community College of Aurora is that we have a building that we can tear up to replicate an actual disaster-type event occurring at that location and also the area outside of it for establishing our area of operations
Denver, Colorado (PRWEB) June 12, 2013
Real-life events in recent months in Boston, Waco, Texas, Oklahoma City and elsewhere have shed an important light on the training necessary to combat wide-scale disaster scenarios, whether resulting from manmade or natural causes.
Such incidents served as a backdrop for a training exercise June 8 hosted by CCA, a community college in Colorado, that featured a combined force of more than 200 National Guard soldiers from both the Army and Air Force that could be called to respond to such real-life events at a moment's notice.
This particular unit ensconced in training is one of only 17 Chemical, Biological, Radiological, Nuclear and Explosive (CBRBE) Enhanced Response Force Package teams in the country.
The training at CCA highlighted the military's expertise in search and evacuation, decontamination, and medical capabilities. The scenario was built around an overarching storyline in which multiple explosive devices allegedly leveled a parking structure, resulting in mass casualties and injuries at an adjoining "hotel," which was actually Building 900 on CCA's Lowry campus.
"Chemical dispersal devices" were placed in areas adjacent to the target. In such a real-world crisis, fire agencies and FBI would respond but their involvement was understood as having already occurred. Also assumed in the mock scenario were that Chemical, Biological, Radiological, Nuclear and Explosive (CBRNE) alarms were activated, necessitating aid of expert team trained in weapons on mass destruction. That elite force allegedly discovered trace amounts of potentially lethal chemicals and mitigated the explosive devices, setting the action on the ground at CCA in motion.
"What's most important is that we have different areas that are unique and present different challenges," said LTC Seamus Doyle, commander of the Colorado National Guard CBRNE Response Force package. "What's great about the location at Community College of Aurora is that we have a building that we can tear up to replicate an actual disaster-type event occurring at that location and also the area outside of it for establishing our area of operations and a rubble pile."
"What that does is stress us to deploy multiple teams simultaneously in different types of events that we don't really get in other training areas. So it's unique that CCA has different areas that require different skills that we can customize."
Building 900, a former Air Force sleeping quarters, was outfitted with jumbled hallways and guest rooms just after an explosion. Remnants of the bomb blast were evident everywhere on the first two floors, including "injured" live actors, who had undergone moulage (detailed makeup) to mimic injuries consistent with this type of event, and "deceased" guests, portrayed by mannequins. Additionally, high-tech simulation mannequins owned by the college's Center for Simulation mimicked specific medical conditions as part of the assessment process by the triage and medical teams. The mannequins are often used by CCA's EMS department, which provides Aurora and Denver EMT training.
An outdoor rubble pile was constructed to mirror a collapsed concrete parking structure, with a car buried underneath, hiding potential trapped victims and/or casualties.
The scope of the activity could be monitored from the Disaster Management Institute (DMI) on CCA's campus that serves as a fully functional Emergency Operations Center and allows incident command to assess the exercise from afar via technology rare to a community-college setting around the country.
The City of Aurora's fire chief served as an incident commander on the civilian side working hand in hand with command-­and-­control in the military to oversee all operations.
"When I found this place, I didn't know what to expect," said SFC Joe Ziser, incident commander for the exercise. "But the training venues that are provided, between the simulation laboratories in the DMI as well as the 900 building are fantastic. And the flexibility to add and subtract training opportunities based on our requirements is huge."
Ziser added that events such as Boston, Oklahoma City and the like "are getting the highest visibility within the National Guard bureau for our oversight and there's a lot of impetus for us to train up and be able to respond to these kinds of incidents. So it's very high visibility at the absolute highest levels at the Department of Defense."
In the mock scenario, intel suggested there were 677 occupants in the hotel prior to the explosion and 189 unaccounted for. The team established a footprint for command and control, decontamination, medical, and search and evacuation, while beginning tactical objectives.
Both Doyle and Ziser said emphatically that training will return to CCA in the future to take advantage of its spaces, resources and knowledge staging such events. Numerous Homeland Security Exercise and Evaluation Program (HSEEP) compliant exercises have been held at CCA. The Federal Bureau of Investigation, high-level operators for the Department of Defense, law enforcement, SWAT, Explosive Ordinance Device (EOD) bomb squads, Hazmat, and as many as 80 fire departments are among the entities holding vital training at the college.
###
About CCA
Community College of Aurora has campuses at CentreTech and Lowry in the greater Denver area. Equipped with the latest technologies, CCA allows students to study new and traditional programs, while also offering Colorado online classes and degrees. CCA's service community spans 325,000 people in a 350-square-mile area and CCA's student population reflects that diversity. The college provides lifelong educational opportunities, prepares the current and future workforce, and promotes excellence in teaching, learning and service.