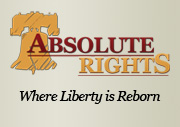 "170 Gallons a Day" will show folks how to ensure their water is clean and drinkable, and avoid any of the costly mistakes made by beginners or the inexperienced.
Austin, TX (PRWEB) October 20, 2012
Disaster water supply practices have been increasingly important over the last several years, according to the latest AbsoluteRights.com article. This is especially critical with the abundance of recent major weather events and devastating damages to clean water collections in both large cities and rural areas. Without as much as a plan, the article said people will have no way to access the lifeline that is potable water.
That's why the survivalist experts at Absolute Rights have published their Special Report, "170 Gallons a Day: How to Purify Any Water—Even Urine—to Store, Drink, or Cook With After a Disaster." It is the preeminent water gathering, filtering, and cleaning guide that's already helped a huge group of people address their needs and establish a plan to prepare and store water for any kind of emergency, said the article. The Special Report has been updated as of October 17, 2012, and is being offered to people who are concerned about their water needs.
In reality, the water supplies that provide Americans with their essential services are much more vulnerable than people think, according to the online piece. Establishing an emergency water supply and learning homemade water filtration techniques using "170 Gallons a Day" will give people a leg up on their personal readiness, which the article said will allow them to take care of themselves and their families when the need arises.
If a crisis strikes, whether it is a terrorist attack or a hurricane, the safety and cleanliness of what Americans drink will immediately disintegrate, said the article. If the only water available is dirty or contaminated, the online article said the risk is higher than not drinking anything. "170 Gallons a Day" will show folks how to ensure their water is clean and drinkable, and avoid any of the costly mistakes made by beginners or the inexperienced.
Costly store-bought filters are often no better than what can be made at home, and knowing how to clean water and the procedures involved will make any water supply plan as strong as it can be.
One of the most important things "170 Gallons a Day" stresses is that practice is essential; trying to purify dirty water in a disaster situation for the first time is not only dangerous, but nearly hopeless, said the article. When people go through the "170 Gallons a Day" guide and follow its direction, the article said they'll be able to begin implementing the suggested techniques into their disaster plans.
Absolute Rights informs patriotic Americans on their given rights, plus helps protect those rights from government or disaster intrusion. Most importantly, it prides itself on alerting people when their rights are being threatened, creating an active and informed community. For more information, be sure to visit AbsoluteRights.com.
The article added that by obtaining the "170 Gallons a Day" Special Report, people are learning from experts who know how to survive in the worst conditions. A disaster water supply can be easily established without expensive and unnecessary equipment, and the article said Absolute Rights is showing them how.