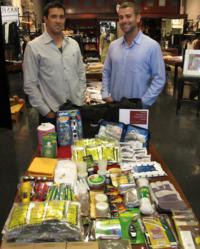 This is an important time to reflect on the fire of '91 and how important it is to have a plan with your family.
San Francisco, CA (PRWEB) October 14, 2011
October 19th marks the 20-year anniversary of the most costly fire in the history of the US, the Oakland Hills Firestorm. What started as a small grass fire became a raging wall of flames, leaping over freeways and devouring buildings as it fed on dry brush and high winds. By the time it was finally extinguished, the fire had covered 5.25 miles, killing 25 and injuring 150. 3,469 homes were destroyed, at an estimated cost of over $1.4 billion.
One of the people who lost his family home in the firestorm was Cary Schneider, who was just 6 years old. The experience was so transformative that he decided to devote his time to helping other families be ready to face potential disaster, taking as his mantra his old Boy Scouts motto: "Always be prepared."
When he looked into the existing emergency supply market, Schneider could not find any place to get all the supplies and information he needed to make a preparedness kit for his family. So together with his childhood friend Max Kwan-Rosenbush, Schneider formed Prepare Us, a new kind of disaster preparedness company. The company offers complete disaster survival kits that offer everything needed to survive for three days in a single bag. The kits come with a 7-day survival plan and preparedness guide based on FEMA and Red Cross recommendations. The company also offers a handy refill system for expired or used items.
"This is an important time to reflect on the fire of '91 and how important it is to have a plan with your family," says Schneider. "It is also crucial to utilize the tools we offer to help a family learn how to back certain important items up and how to efficiently make a plan and be prepared for a fire or any disaster."
The company makes disaster preparedness kits, which exceed FEMA standards, for 1, 2 or 4 people. The duffel bags are packed with tools including a hand-crank flashlight and cell phone charger, lightsticks, and a Swiss army knife; food and water supplies including MREs, water packets, and purification tablets; comfort items including a 200-piece first aid kit, instant ice packs, and polarshield blanket; sanitary supplies including sanitary paper and body wipes; and many other handy items. Prepare Us also makes the 1-Person Essentials Go-Bag, ideal for stashing in a car or at a desk, and the Pet Essentials Go-Bag, because pets need to be prepared, too.
The comprehensive guide, which accompanies the bag, is designed to walk families through an efficient 7-day plan to becoming prepared for any disaster. Pulling from FEMA, Red Cross and other expert sources, this condensed guide ensures that families think about all the issues they may face, and offers easy-to-follow techniques to become fully prepared. It includes everything from instructions on turning off a gas main to making reunion plans for babysitters to backing up important and valuable information in a secure and efficient manner.
Prepare Us also offers a unique refill program for used or expired food, water and sanitary items. When users register their kits, the company will alert them when the items need to be replaced (every 3, 5, and 7 years), and offer replacement items at cost, guaranteeing this to be the last Disaster Preparedness Go-Bag they will ever need to think about purchasing.
"My experience with the Oakland Hills Firestorm 20 years ago is still with me today, and it was a big part of what drove me to seek out the best information and products to help other people prepare for the worst," explains Schneider. "The Go-Bags were specifically designed to help people be ready if they ever have to face such a traumatic emergency situation."
For more information about Prepare Us, please call (415) 367-5917, email cary(at)prepareustoday(dot)com, or visit http://www.prepareustoday.com.
About PrepareUs, LLC
PrepareUs was founded by two local Marin entrepreneurs, Cary Schneider and Max Kwan-Rosenbush, while they were attempting to create emergency preparedness bags for themselves and their families. As they were doing this, they both realized the growing urgency for individuals and families to prepare themselves efficiently to survive a natural disaster, as well as the lack of sufficient preparedness bags currently on the market.
They realized that they could make a difference in their community by developing the ultimate Family Emergency Go-Bag. The Go-Bag that they created will sustain a family for at least three days during a catastrophic disaster, whether it is an earthquake, wildfire, flood or another unexpected occurrence. The Go-Bags include a 7-day survival plan and preparedness guide based on FEMA and Red Cross recommendations, and a system for getting refills of expired or used items.
###