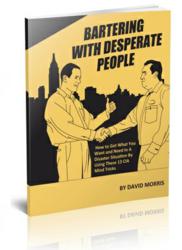 Learning survival skills has huge importance; the intelligence and know-how to confidently enter discussions and leave with satisfying results is priceless.
Austin, TX (PRWEB) April 14, 2012
Disaster survival skills are receiving a big boost by the growing number of people who are learning how to barter, said today's AbsoluteRights.com article. If and when "The End of the World as We Know It" occurs, negotiating skills will help acquire the necessary items that will keep people and their loved ones alive and healthy. Desperate times can devalue money and crumble economic foundations. The size of a wallet or bank account won't matter; what will is the ability to barter.
To help people prepare for the worst, the article reveled that Absolute Rights has published the newest Special Report "Bartering with Desperate People: Bartering and Negotiating in Post-Disaster Survival Situations." It is jam-packed with real life, usable advice that instantly makes anybody a bartering mastermind.
Special negotiation tricks and techniques will help get through the worst non-stable situations, said the article. Learning survival skills holds huge importance; the intelligence and know-how to confidently enter discussions and leave with satisfying results is priceless. History has proven the best skills and items to have in desperate times, and the Special Report shares them all.
It also puts negotiating strategies in an interesting light, the article said. "Bartering with Desperate People" says that money represents time. If people had all the money in the world, they'd be able to spend their time doing whatever they wanted. The Special Report's philosophy views overpaying as a voluntary wages cut. When negotiators consider that perspective, it's easier to view the true value of bartering items and make a confident and personally-beneficial decision.
Bartering's usability doesn't have to wait for the end of the world, and will benefit anyone trying to save money in any situation. The country's financial situation is already in trouble, so before matters get worse, now's the time to get a leg up on the rest of the world before the end of societal stability. If bartering skills are honed now, then disaster preparedness is increased tenfold.
Sharpening negotiation skills will give people the ability to recognize dirty bartering tactics and defend against them, the article said. Absolute Rights' Special Report identifies the best ways to build rapport, and also gives tips on both verbal and physical ways to get the best deal.
According to the article, the most valuable part of "Bartering with Desperate People" is the three-page list of the most valuable items to barter with. It is irreplaceable: the type of thing that should be printed, saved, and memorized.
Absolute Rights informs patriotic Americans on their given rights, plus helps protect those rights from government intrusion. Most importantly, it prides itself on alerting people when their rights are being threatened, creating an active and informed community.
Bartering may very well become the only way to buy and sell things, and the skills needed to be successful aren't always easy to grasp. For the best source of disaster survival skills, the article suggested turning to Absolute Rights and their Special Report "Bartering with Desperate People."