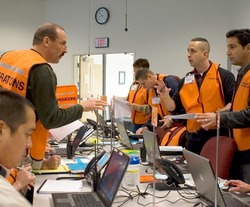 To me, what makes this occasion important is TEEX's mission to save lives of our fellow citizens
(Vocus) May 28, 2008
In a world of uncertainty, the Texas Engineering Extension Service's (TEEX) Emergency Operations Training Center, or EOTC, prepares those who might face managing large-scale natural or man-made disasters.
Already the finest and most-unique training facility of its kind in the world, the EOTC recently grew from 17,000 to 32,000 square feet to expand its training capacity and capabilities.
Ribbon Cutting and Grand Re-opening
On Tuesday, May 27, a ribbon-cutting and grand re-opening ceremony took place at the EOTC, featuring remarks by U.S. Rep. Chet Edwards, Texas A&M University System Chancellor Mike McKinney, Texas A&M Vice Chancellor for Engineering G. Kemble Bennett, and TEEX Director Gary Sera.
"To me, what makes this occasion important is TEEX's mission to save lives of our fellow citizens," Rep. Edwards said to the more than 100 people in attendance. "Given that the number-one responsibility of government is to protect lives and liberties, TEEX and this facility get to the very core and fundamental purpose of government. Because of TEEX's work and leadership, lives have already been saved and will be saved in the future. You can't put a price tag on saving lives and it does not get any more important than that."
Technology enhances the EOTC experience
The Emergency Operations Training Center is perhaps the most technologically-advanced facility of its kind, and is operated by TEEX's National Emergency Response and Rescue Training Center, or NERRTC, in College Station, Texas.
The EOTC offers simulated operations ranging from an incident command post perspective or an emergency operations center, to a multi-agency coordination viewpoint at a regional or state level. The result is a total-immersion experience that provides participants an extraordinarily realistic opportunity to manage a large-scale incident.
The proprietary software that provides the real training muscle for the EOTC was developed by Texas A&M Engineering and the Texas Engineering Experiment Station, but under the guidance of NERRTC training experts. The role-playing that occurs in response to computer-injected events can be delivered via several modes: LAN, Web browser, a combination of the two, or in a wireless, stand-alone network. If needed, participants can even be in geographically different locations.
The backbone of the EOTC is the training analysis capability that allows for timely, quality, after-action review of exercise activities. The instructional staff is unparalleled in terms of quality and experience and all have participated in, or managed, a large-scale incident.
About the Texas Engineering Extension Service
The Texas Engineering Extension Service, a member of The Texas A&M University System, offers hands-on, customized first responder training, homeland security exercises, technical assistance and technology transfer services impacting Texas and beyond. TEEX programs include fire services, homeland security, law enforcement, public works, safety and health, search and rescue, and economic solutions.
About The Texas A&M University System
The Texas A&M University System is one of the largest systems of higher education in the nation. Through a statewide network of nine universities, seven state agencies and a comprehensive health science center, the A&M System educates more than 105,000 students, conducts almost $627 million in externally funded research and makes more than 15 million additional educational contacts through service and outreach programs each year.
###