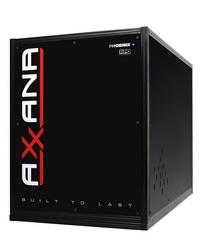 At NM Rothschild, we believe we should protect all of our data, not just transactional but unstructured data such as e-mail and Office documents as well as other non-transactional information
TEL AVIV, Israel and DALLAS (PRWEB) October 13, 2008
Until today, existing data protection methods – such as backup/restore, replication or CDP – have been bound by same limitation: all data that required protection had to be transported out of the primary data center prior to a disaster. In contrast, Axxana's technology completely protects enterprise data inside a "disaster-proof" EDR device, an enterprise equivalent to the indestructible "black box" flight-data recorders used to recover post-crash aircraft data.
"Axxana's announcement of 'EDR' as a new domain in replication-enabled Disaster Recovery is intriguing," noted IDC Research Manager, Noemi Greyzdorf. "This new concept of an Enterprise Black Box may force us to totally reevaluate how data centers ensure zero data loss and full data recovery over traditionally long distances."
Since its founding in 2005, Axxana has been heavily engaged in research and development of its unique disaster recovery solution. The technology is the first to achieve all of the following:
Zero post-disaster data loss (RPO=0, as with synchronous replication) Unlimited distance to DR data center (as with asynchronous replication) Quick data recovery (very short RTO) Significant operational-cost reductions for data protection by enabling the use of existing data center assets, and low-cost commodity communication lines Innovation around enterprise data protection has historically focused on removing data from the primary location as quickly and as completely as possible for remote safekeeping. Axxana's novel approach is the first ever to view data removal alone as expensive and inherently incomplete. Instead, enabled by an advanced collection of highly ruggedized storage, electronics, and materials technologies, Axxana's EDR actually brings the data "through the disaster," ensuring the full survivability of otherwise lost data within the enterprise site itself.
The result is rapid post-disaster application recovery, with no data loss whatsoever. The technology also expands the scenarios under which synchronous replication protects data, such as an on-site communication link failure or regional disaster.
"Axxana is the only vendor to blend the full data-recovery advantages of synchronous data replication with the distance and cost advantages of asynchronous data replication," said Eli Efrat, Axxana's Chief Executive Officer. "This is a game-changing concept in disaster recovery, and we invite storage vendors and enterprises to join with us and explore the full potential of this technology."
Deployment of Axxana's EDR allows organizations to eliminate longstanding operational shortcomings of existing DR technologies, including:
Recovery failure as a result of inconsistent data inherent in asynchronous replication scenarios – all replication is now synchronous Tedious and never-ending data classification between critical and non-critical data – all data is now protected Data loss due to primary-to-secondary site link failure in synchronous replication scenario – in the event of link failure, all data is now replicated Axxana is already receiving a warm welcome from the Storage industry:
"Axxana is creating a new category of data protection solutions aimed at companies that have always-on business requirements," remarked Jon Toigo, CEO of Toigo Partners International. "The deltas or data differences posed by asynchronous WAN-based data replication may just have found their answer in Axxana's innovative approach. Worth a closer look."
"It is for the first time that I see a solution that enables a failover site at any distance with the ability to absolutely recover all transactions." said Moshe Yanai, executive chairman of XIV and IBM Fellow.
"At NM Rothschild, we believe we should protect all of our data, not just transactional but unstructured data such as e-mail and Office documents as well as other non-transactional information," said Steve Pikett, Head of IT at N M Rothschild & Sons. "Axxana's black box will allow us to protect all of our data in a synchronous way, using our existing European data centers and without applying an unreasonable level of cost to do so. We have to be certain that if we needed to recover, the data will be there."
Recently listed among Network Magazine's 10 data storage companies to watch, Axxana was founded by industry veterans who are widely-respected for their broad experience in the security, hardware and data storage markets. The company was founded based on innovation by CTO Dr. Alex Winokur, previously CTO of XIV (acquired by IBM), co-founder of Sepaton and senior manager of storage research and development activities at the IBM Haifa Research Lab in Israel.
Axxana has partnered with leading storage vendors, and with them, plans to make its first product available in the first quarter of 2009.
About Axxana
Axxana was co-founded by veterans of the storage industry in order to address the number one challenge in data protection; recovering data at any distance with zero data loss. Axxana provides a compelling solution that is set to change the face of Disaster Recovery. Axxana has introduced a new domain in the Data Protection arena, namely Enterprise Data Recording (EDR). Serving enterprises around the world and developed in close conjunction with some of the most prestigious names in the data storage industry, Axxana has risen to the challenge by developing its first EDR System.