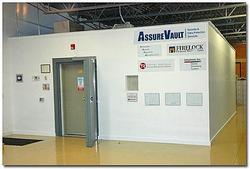 We saw first hand how clients that thought they had their business continuity planning and disaster recovery in order were sadly mistaken, or they had never considered it and did not know where to turn.
Kutztown, PA (PRWEB) June 15, 2010
There is a network of secure disaster recovery locations across the country capable of hosting everything from a single rack of IT equipment to a fully-loaded "data center in a box," such as a Secure Agile Vault Environment (SAVE) unit. These sites owned and managed by members of the Secure Media Vault Associates (SMVA) group offer the power, network communications bandwidth, chilled water supply and round-the-clock security for mission critical IT operations.
The SMVA is a network of owner-managed offsite data storage service providers who offer the highest level of protection for their clients' data backup tapes with FIRELOCK Class 125 data vaults. These Class 125 Media Vault Chambers provide enhanced protection, which ensure the vault interior will not exceed 125º F in a fire. Since this is the temperature at which digital media is destroyed, this is mission critical in vaults that claim to protect media assets.
SMVA members also adhere to best practices such as barcode tracking software and GPS tracking of vehicles to manage the media that holds their clients' vital information. Strict access control and other security protocols at SMVA facilities make them far more secure than the typical large-company offsite storage facility.
These service providers are experienced in helping their clients through disasters. Dean Sturtz, Vice President of Advantage Records Management & Storage in Cedar Rapids, IA recounts their experience with the 2008 floods that struck the Midwest: "We saw first hand how clients that thought they had their business continuity planning and disaster recovery in order were sadly mistaken, or they had never considered it and did not know where to turn. We were especially surprised by the number of businesses that kept their backup/restoration tapes inside bank vaults. Not only is a bank vault an inappropriate place for sensitive tapes and disks (no temperature or humidity control), access outside of normal business hours is impossible. We acted as a clearing house for several banks that literally brought their safety deposit boxes directly to our facility after the flood waters had receded. Their clients could then go through the reclamation process in our secure, clean and dry facility. These lessons were dearly paid for by many businesses."
A real professional in disaster recovery and homeland security is John E. Miller, LTC, AUS-Retired. Mr. Miller is President/CEO of WesTex Data Vault, Inc. in Lubbock, Texas. Mr. Miller is certified in Homeland Security and in Sensitive Security Information. He teaches FEMA disaster training to local businesses and government organizations, and is actively involved supporting Homeland Security in West Texas. "Texas has seen its fair share of disasters, from hurricanes, tornadoes, range fires and floods – we even had a high school burn to the ground and all their computers and records were lost. As a business owner and SMVA member I strive every day to get business and governments to think about risk reduction and mitigation planning, because I have had to deal with the failures."
An excellent example of these distributed network sites is AssureVault, LLC located just outside of Cleveland, OH, managed by Dennis Tallerico. AssureVault offers a variety of services including cloud-based backup and recovery, application (SaaS) hosting, co-location services for disaster recovery and tape vaulting and rotation services. All of their services are built around the SAVE architecture. Regarding their services, Mr. Tallerico stated "Here at AssureVault we focus on protecting our clients' data and their systems, and ensuring that if there is a problem with either we can quickly restore their operational status with minimum interruption to their business and clients." Mr. Tallerico also stated "These types of services allow us to support small office environments that have grown to rely on technology without each company being required to make large investments in hardware, software and IT support staff."
Having a network of secure locations around the country gives organizations the ability to choose which geographic area best suits their needs. Some may need a reliable location outside of their own region due to the threat of large-scale disasters, such as hurricanes or earthquakes. Others that are not in disaster-prone areas may prefer a local fail-over site to hedge against the chance of a disaster within their own facility, such as a fire or loss of communications that disrupts IT operations. IT Managers now realize that moving data out of large cities in the middle of a catastrophic event is impossible. Storing media out of the city and near a regional airport solves a major transportation problem. This is also a problem in hurricane prone areas. Moving media when an evacuation is in effect is difficult.
Another example of these distributed network sites is Docusafe Inc., in Robbinsville, NJ, managed by Marvin Parker. Docusafe features several FIRELOCK vaults and offers co-location services within these protected vault environments. Their facility is also ideal for hosting SAVE units outside their building, with 24-hour surveillance, strict access controls, redundant network communications, backup power generators and abundant cooling capacity. Regarding the advantages of utilizing Docusafe as a containerized data center host Mr. Parker stated, "At Docusafe we understand how critical it is for our clients to get up and running again in a disaster. Every year the cost of downtime escalates, and we offer an economical option to minimize this downtime with our IT disaster recovery services."
As a member of SMVA, Mr. Parker of Docusafe sees the benefits the network offers clients: "Because we are part of a network of disaster recovery sites our clients have the option to take their disaster recovery operations to one of our network partners in another region of the country if that is what best suits their needs at the time. This gives them much more flexibility in their DR plan, and ultimately provides much greater peace of mind."
Organizations interested in learning more about the disaster recovery services offered by SMVA can find their local network member at http://www.securemediavaultassociates.org and contact them for more information.
###