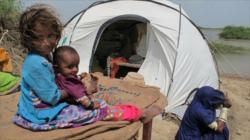 "There are literally millions of people who are right this second living in appalling conditions, on roadsides, hillsides, in improvised shelters."
(PRWEB UK) 21 September 2011
UK-based disaster relief charity, ShelterBox, is providing shelter for thousands of families made homeless in Pakistan following the catastrophic flooding that has blighted the region.
Torrential monsoon rain over the past five weeks has forced an estimated five million people from their homes in the Sindh province.
Mark Pearson, ShelterBox field operations specialist, who is currently in Baden in Singh province said: 'There are literally millions of people who are right this second living in appalling conditions, on roadsides, hillsides, in improvised shelters. These families are facing enormous threats from waterborne diseases, lack of food, clean drinking water, proper shelter or medical facilities.'
ShelterBox, which provides emergency shelter tents and survival equipment in one box, has been working closely with the National Rural Support Programme (NRSP), to distribute over 2,840 ShelterBoxes of aid from Badin over the past fortnight. Each ShelterBox tent can house an extended family, meaning nearly 3,000 of the most vulnerable families now have a safe place to spend the night.
Mark continues: 'The floods have only worsened the situation that we witnessed last year. More than 800,000 families remain without permanent shelter from the 2010 floods. Many of these families won't have had a chance to rebuild their lives since then and so have suffered a doubly intense blow from this disaster.
'There is already a dengue fever outbreak in Punjab and the possibility of it moving south to Sindh is highly likely as there is so much standing water for the mosquitoes to breed in. Emergency shelter, water filtration equipment and mosquito nets can save lives in this kind of environment so it is imperative that we get more aid into the country sooner rather than later.'
ShelterBox responded to last year's flooding in Pakistan, sending enough aid for 150,000 people to the region but the charity is now calling on the general public to donate money to help the ongoing aid effort.
Mark says: 'Further monsoon rains are forecast for next week meaning floodwaters won't fall for a while yet. This issue isn't going away any time soon. We need to put aside politics and concentrate on the human cost of these natural disasters.'
To support ShelterBox and help provide shelter, warmth and dignity to families that have been affected by disasters worldwide please visit http://www.shelterbox.org
Public donations are vital to ShelterBox's continuing work. To make a donation please ring +44 (0)300 0300 500 or go to http://www.shelterbox.org to donate online and get the latest updates on our response to disasters around the world.
ABOUT SHELTERBOX
ShelterBox is an international disaster relief charity that provides emergency shelter and life-saving supplies to families around the world who are affected by disasters.
Each big, green ShelterBox is tailored to every disaster but typically contains a disaster relief tent for an extended family, blankets, water purification and storage equipment, cooking utensils, a stove, a basic tool kit, a children's activity pack and other vital items.
ShelterBox was founded in 2000 by Rotarian Tom Henderson OBE and is a Global Rotary Club Project. It has its headquarters in Helston, Cornwall, UK.
For high resolution images visit http://www.flickr.com/photos/shelterboxuk/sets/
###