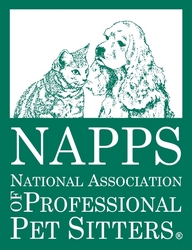 As an association dedicated to protecting the welfare of all animals, we are confident that these guides may mean the difference in preventing the suffering of many pets, pet sitters and pet owners might otherwise experience
Boise, ID (Vocus) April 24, 2009
The National Association of Professional Pet Sitters (NAPPS) has provided free to the pet parents in the US a 19 page guide to protecting your pets in the event of a disaster, whether it be flooding, extreme heat, hurricane, wildfires or any other common or uncommon disasters a pet owner might experience.
NAPPS, America's only nonprofit pet sitting organization, has provided to the pet owning public a complimentary disaster preparedness guide and emergency ID cards which allow for contacting, in an emergency, veterinarian clinics or pet guardians. This complimentary guide may be downloaded at the association's web site http://www.petsitters.org
"As an association dedicated to protecting the welfare of all animals, we are confident that these guides may mean the difference in preventing the suffering of many pets, pet sitters and pet owners might otherwise experience," said NAPPS President Monica Leighton of Professional Pet Sitting in Venice, FL." The NAPPS Disaster Preparedness Guide covers disasters of all types with special recommendations for birds, reptiles and other smaller animals.
The National Association of Professional Pet Sitters is dedicated to promoting the concept of in-home pet care, supporting the professionals engaged in at-home pet care, promoting the welfare of animals and improving and expanding the industry of pet sitting. NAPPS provides valuable credibility, networking and education to help foster the success of their members. To find a pet sitter in your area, check out NAPPS nationwide referral network at http://www.petsitters.org.
Contact:
Monica Leighton
941-223-9916
# # #