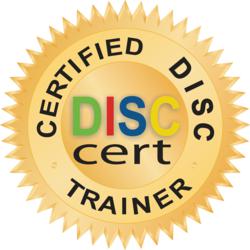 "Many were telling me they could hardly wait to try their new DISC training techniques," says Bonnie Burn
La Jolla, CA (PRWEB) September 05, 2012
DISCcert, (Web:disccert.com) a recognized leader in DISC Certification is proud to announce that its founder, Bonnie Burn, exceeded expectations in the last session of her DISC Certification course. The August session was filled to capacity with corporate trainers and HR professionals from all over Southern California. The success of the August training has prompted DISCcert to schedule an encore session of DISC Certification courses set for October. The 2 day course, led by DISC master trainer Burn, certifies business trainers and HR professionals to implement DISC in their business. This will enable them to provide their employees with DISC training resources and DISC training tools to increase effectiveness in all business interactions.
"Many were telling me they could hardly wait to try their new DISC training techniques," says Bonnie Burn. "Delivery turn-key practical DISC tools, was received with unanimous appreciation from all the attendees."
To view registration information for the next DISC Certification course go to:
http://www.disccert.com/register/
This is a DISC trainer's program geared for the busy trainer and HR professional that needs the DISC lesson plans & DISC PPTs & DISC activities already produced, so they can focus on implementing DISC A.S.A.P. when returning to work. Bonnie Burn is an author and has been a corporate trainer for over 30 years. She knows trainers and HR professionals just don't have the time to sit around and develop DISC PPTs, or DISC activities, or DISC handouts. She makes it easy to be immensely successful when returning to work. In fact, a common question she gets from trainers and HR professionals after graduating is… "How do I handle all the DISC training my people want?" What a great problem to have… So many people will want to come to your DISC trainings… Now that's Success!
About Bonnie Burn
Bonnie Burn, is a 30 year master corporate trainer and author of Assessment A to Z; Jossey-Bass Publishing. Her expertise for years as a professional DISC expert and corporate trainer in DISC, led her to design the most up-to-date and comprehensive DISC Certification seminar available. Through her company, DISCcert, business trainers and HR training professionals can easily gain confidence in knowing how to successfully train DISC throughout their entire organization. Miss Burn is committed to insure all DISC trainers and HR professionals are successful with their DISC training long term.