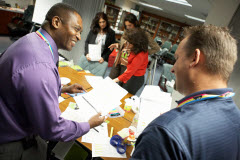 "Graduates from our October DISC Certification Training were asked to describe with one word
their experience," shares Miss Burn.
San Diego, CA (PRWEB) October 31, 2012
DISCcert, (Web:disccert.com) in addition to the premier DISC Certification program, executive trainers have ongoing access to 200 free DISC training resources which include:
►A site map organized by subjects, training tools, training processes
►Learning activities for DISC team building, management development,
►Power points that explain the DISC model, graphs & how to apply
►Handouts that provide specific examples of D,I,S,C scenarios
►Worksheets that are user-friendly and practical
►Case scenarios based on Best DISC Practices
►Video DISC interviews with seasoned DISC trainers
All DISC Certification materials are designed by seasoned DISC Trainers to help training executives:
►Customize DISC programs to meet organizational objectives
►Learn the DISC Best Practices for Coaching, Training, Facilitating
►Develop your DISC management and leadership training programs
►Formulate DISC team building sessions for optimum success
►Promote DISC sales training that produces quick results
"Graduates from our October DISC Certification Training were asked to describe with one word
their experience," shares Miss Burn. "Inspiring, empowering, eye-opening, awesome understanding, gateway to possibilities," were just some of the Graduates responses."
No other DISC Certification training offers such comprehensive support. Sign up for the Jan 24 & 25th DISC Certification Program to acquire excellent DISC training skills and resources.

This DISC certification program is designed for the busy trainer and HR professional, who wants to use DISC, but does not have the time to develop DISC PPTs or DISC learning activities or DISC handouts. In this highly interactive two day workshop, attendees quickly learn how to use the extremely practical DISC tools, so they can gain the essential confidence in delivering DISC. Bonnie Burn makes it easy to be immensely successful when returning to work. In fact, a common question she gets from trainers and HR professionals after graduating is… "How do I handle all the DISC training my people now want?" What a great problem to have… So many people will want to come to your DISC trainings… Now that's Success!
About Bonnie Burn
Bonnie Burn, is a 30 year master corporate trainer and author of Assessment A to Z; Jossey-Bass Publishing. Her expertise for years as a professional DISC expert and corporate trainer in DISC, led her to design the most up-to-date and comprehensive DISC Certification Program available. Through her company, DISCcert, business trainers and HR training professionals can easily gain confidence in knowing how to successfully train DISC throughout their entire organization. Miss Burn is committed to insure all DISC trainers and HR professionals are successful with their DISC training short and long term.
DISCcert
Bonnie Burn
Tel. +1 855.459.6648 (Toll Free)
Fax +1 858.461.6142
Email bonnie(at)disccert(dot)com
http://www.DISCcert.com