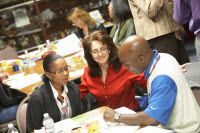 DISC certified grads describe the programs: inspiring, empowering, gateway to possibilities, Miss Burn reports.
San Diego, CA (PRWEB) February 14, 2013
DISCcert DISC Certification attendees are equipped with tools easily customized for their organizations objectives.
► scenarios
► power points
► learning activities
► lesson plans
► job aides
Becoming DISC certified guarantees access to weekly automated tips that allow users to successfully identify and respond to DISC styles.
► Boss - What style is your boss?
► Meeting - What style is leading your meetings?
► Phone - What style are you addressing on the phone?
► E-mail - What is the sender's e-mail style?
With all these proven tools there is a guaranteed formula for success. Accomplishing business goals becomes easy with multiple tools provided by DISC Certification.
"Graduates from our January DISC Certification Training were asked to describe with one word their experience," shares Miss Burn. "Inspiring, empowering, eye-opening, awesome understanding, gateway to possibilities," were just some of the Graduates responses."
No other DISC Certification training offers such comprehensive support. Sign up for the April 25 & 26 training program to acquire excellent training skills and resources.

This DISC certification program is designed for the busy trainer and HR professional, who wants to use DISC, but does not have the time to develop PPTs, learning activities or handouts. In this highly interactive two day workshop, attendees quickly learn how to use the extremely practical tools, so they can gain the essential confidence in delivering DISC. Bonnie Burn makes it easy to be immensely successful when returning to work. In fact, a common question she gets from trainers and HR professionals after graduating is… "How do I handle all the DISC training my people now want?" What a great problem to have… So many people will want to come to your DISC trainings… Now that's Success!
About Bonnie Burn
Bonnie Burn, is a 30 year master corporate trainer and author of Assessment A to Z; Jossey-Bass Publishing. Her expertise for years as a professional DISC expert and corporate trainer in DISC, led her to design the most up-to-date and comprehensive DISC Certification Program available. Through her company, DISCcert, business trainers and HR training professionals can easily gain confidence in knowing how to successfully train DISC throughout their entire organization. Miss Burn is committed to insure all DISC trainers and HR professionals are successful with their training short and long term.
DISCcert
Bonnie Burn
Tel. +1 855.459.6648 (Toll Free)
Fax +1 858.461.6142
http://www.DISCcert.com