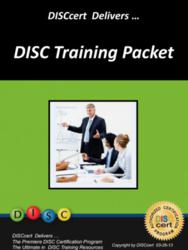 Training sessions showed how to actually use the DISC in practical work scenarios. Your DISC Certification program is definitely a formula for training success.
San Diego, CA (PRWEB) June 26, 2013
Participants in DISCcert's two-day DISC Certification program, scheduled for July 25 & 26 in San Diego, will receive added value in the form of its DISC Train-the-Trainer Packets, featuring distinct and highly-effective training materials. The DISC packets have been broken down into coaching, training and valued-added packets. Each of the three DISC Train-the-Trainer packets made available to graduates of the DISC Certification program, brings yet another dimension to DISC assessment and implementation.
The DISC Certification materials included help corporate trainers, human resource professionals, managers provide answers to such nagging questions as:

Why are some people so difficult to get along with?
Why won't some people just get to the point?
Why is it that my intentions are misunderstood by my co-workers?
In what environment and under what circumstances do I perform at my best?
How can I adapt my behavior so that I can move productively through conflict?
DISCcert Certification program graduate Rebecca Flouroy, Senior Human Resources Manager at Binding Site, said this of our program: "Training sessions showed how to actually use the DISC in practical work scenarios. Outstanding! Your program is definitely a formula for training success. Thank you again for everything, Bonnie!"
The DISCcert DISC Coaching Packet is designed for one-on-one in-depth debriefing following the completion of the DISC assessment profile. Trainers are encouraged to explain to individual employees that DISC is not a test; there is no right or wrong answer. The results are indicators showing an individual's behavior patterns and tendencies when communicating."
The DISC Coaching Packet in the DISC certification program includes:

A checklist for DISC coaches to review before starting the assessment review
A debriefer script giving the DISC trainer step-by-step instructions on how to review the DISC assessment with an employee
Worksheets that take DISC trainers through the process of explaining DISC Graphs I & II
Worksheets that help DISC trainers do a comparison of Graphs I & II
A sample sheet showing the assessment for a strong D, one of the styles identified by the DISC assessment
Action plans for all four DISC styles
The DISCcert DISC Training Packet is geared toward a group DISC training session, rather than the individual featured in the Coaching Packet. As such, it is designed around interactive activities. Attendees are given insights into their own individual graphs with real-time feedback, which, in turn, gives them a better understanding of their co-workers' DISC communication styles. Participants can now answer the question: "Do I communicate with you the way you want me to?"
The DISC Training Packet in the DISC Certification program includes:

A DISCcert DISC Training Outline
An overview of Graph II, along with a script for the DISC trainer and suggestions for interactive activities
A comparison worksheet of Graphs I & II
An email decoder, which can be customized with a firm's own emails and shows the different ways an individual might phrase the email depending on their DISC style
Tips on how to email individuals with one of the four DISC communication styles: D, I, S or C
Action plans for all four DISC styles
What an invalid DISC graph might look like and how to address the situation effectively.
DISCcert's third packet in the DISC certification program is the DISC Value-Added Packet. It is a way for trainers to get and keep key stakeholders motivated. It is meant to show managers how DISC can help their team members with their communications, both among themselves and with their internal and external customers.
The Value-Added DISC Packet in the DISC certification program includes:

Guidelines to help trainers determine managers' expectations of DISC Team Building
A Follow-up Lesson Plan that shows trainers how to present the overview of the Team's DISC styles to managers
DISC Trainer Tips that explain how to identify signs of misunderstanding and how to receive the information being imparted by the employees
A Manager's DISC Toolkit, a script to help managers offer better support of the DISC system once the training is over
A Follow-up DISC Process with suggestions on how to discuss the various DISC styles with employees
A Manager's Tool for DISC Follow-up offers a variety of tools, allowing managers a way to streamline this process
A Sample of Team DISC Tips, in this case a chart of employees, their DISC profile and how to best work with them
Graduates of the DISCcert DISC Certification program have access to DISCcert's library of over 200 DISC resources.
Graduates and their employees receive complimentary, weekly automated DISC Tips (10 series in all).
Keep DISC Alive Follow-up tips from DISC Certification graduates.
This comprehensive compilation of DISC Train-the-Trainer information is available to each and every graduate of DISCcert's DISC Certification, scheduled for July 25 & 26 in San Diego.
"I want graduates of my DISC certification program to walk away with a complete understanding of what the DISC assessment program is, how it can be implemented into their corporate culture and the value it holds for their business," explained Bonnie Burn, creator of the DISC certification system. "Many DISC certified graduates have been able to help their organization by using DISC to open lines of communication and cooperation among co-workers, other departments, colleagues, potential and existing donors/investors and to develop their internal and external customer relationships, which have exponentially increased their company's return on investment," she added.
For more information on the July 25 & 26 DISC Certification, click on the link below.
Following years as a corporate trainer in DISC and professional DISC expert, Bonnie Burn, a master corporate trainer, created a comprehensive DISC certification Train-the-Trainer program. She has designed it to ensure that DISCcert certified DISC trainers successfully implement the program at their companies with positive, long-term results.
Bonnie envisioned a DISC certification training resource company that provided practical coaching for trainers prior to, during and after the achievement of DISC certification. Her vision has been realized, as DISCcert now offers one of the nation's leading DISC certification programs. Trainers can become DISC certified in one of three ways: Through a conventional classroom program, at an in-house session, or in a virtual format. Sessions are designed to be positive, engaging, and an ongoing learning experience. The professionally-prepared PowerPoint presentations, lesson plans, leader's guides, and learning activities are designed so that each company or organization can customize them to fit their specific needs. DISC certified graduates receive 24/7 access to training resources, LinkedIn DISCcert Trainers' Group and weekly DISC Tips. Burn is also the author of Assessment A to Z (Jossey-Bass Publishing).