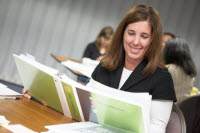 The DISC Trainings I do now are no longer just events, but rather Trainings that generate results.
San Diego, CA (PRWEB) April 17, 2013
At the April 25th & 26th DISC Certification training, DISCcert is offering DISC Value-Added Packets to all graduates. They will contain invaluable proven strategies for reinforcing DISC best practices, for all types of businesses.
Included are:

DISC Follow-up Lesson Plans
Manager's DISC Toolkit
Sample of DISC Team Job Aids
Best DISC Activities for on-going development
Most effective DISC Reference Tools
To insure your organization is getting the best DISC ROI, there are additional Value-Added Offerings.
They entail:
On-going, complimentary DISC Train-the-Trainer Coaching.
24/7 access to over 200 DISC Resources
Automated Weekly DISC Tips (10 Series in all)
Successful DISC Business Case Studies by DISC Certified Graduates.
Actual pairing with seasoned DISC Trainers to learn powerful, long term Applications.
"The DISC Trainings I do now are no longer just events, but rather Trainings that generate results. They actually create continued organizational growth and communication improvement at all levels."
This DISC certification program is designed for the busy trainer and HR professional, who wants to use DISC, but does not have the time to develop PPTs, learning activities or handouts. In this highly interactive two day workshop, attendees quickly learn how to use the extremely practical tools, so they can gain the essential confidence in delivering DISC. Bonnie Burn makes it easy to be immensely successful when returning to work. In fact, a common question she gets from trainers and HR professionals after graduating is… "How do I handle all the DISC training my people now want?" What a great problem to have… So many people will want to come to your DISC trainings… Now that's Success!
About Bonnie Burn
Bonnie Burn, is a 30 year master corporate trainer and author of Assessment A to Z; Jossey-Bass Publishing. Her expertise for years as a professional DISC expert and corporate trainer in DISC, led her to design the most up-to-date and comprehensive DISC Certification Program available. Through her company, DISCcert, business trainers and HR training professionals can easily gain confidence in knowing how to successfully train DISC throughout their entire organization. Miss Burn is committed to insure all DISC trainers and HR professionals are successful with their training short and long term.
Bonnie Burn
Tel. +1 855.459.6648 (Toll Free)
Fax +1 858.461.6142
http://www.DISCcert.com