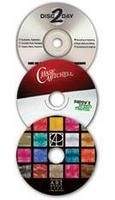 Until the economy picks up we are going to help struggling musicians and small business people to survive.
Tempe, AZ (PRWEB) February 4, 2009
Disc2day, the optical disc manufacturer for independent musicians and businesses, announces new Next Day Turnaround Packages for select retail-ready CD duplication packages. The company created this new service for businesses and musicians who cannot afford to keep large inventories and must replenish CD stock with quick turnaround. Available Next Day packages include duplicated CDs in jewel or slim line cases with 2-8 panels.
For example, a 100 piece Next Day CD Complete package with a two-panel, full color insert is now available for $289. Disc2day' Next Day packages are completely retail-ready, and include all duplication, on-disc printing, insert printing, and packaging. The company explains that the primary difference between Next Day packages and its regular packages is the delivery time.
Robert Brucato from Disc2day said today's small business owners and independent musicians have been hit especially hard during these difficult economic times. "It's always the little guy that feels the pain first. They can't afford large inventories and they lose money if they have to wait for long turnaround times. We realized that our process are nimble enough that we can add one or two Next Day jobs to our daily schedule and show our support for the backbone of free enterprise."
Disc2day does not intend for this new package to be limited to a specific time. "Until the economy picks up we are going to help struggling musicians and small business people to survive." Brucato remembers when he first got started and can appreciate how he had to purchase supplies one box at a time. "We don't penalize people with big ideas on little budgets."
Some limitations, terms, and conditions may apply to Disc2day's Next Day package. To learn more about Disc2day's CD duplication services and its complete line of duplication hardware call 1-800-951-3707 or visit their website at http://www.Disc2day.com. Hablamos español. Lista de precios española atada.
About Disc2day:
In business since 2000, Disc2day is the premier independent CD and DVD manufacturer, offering a wide variety of products and services, including promotional design and printing as well as complete CD and DVD replication and custom packaging for independent musicians, filmmakers, and businesses. Founded on the premise that companies should not have to wait standard 10 - 15 day turn times, Disc2day has carved a niche for businesses that are budget-conscious and time-constrained. For relevant CD DVD news and tips, visit Disc2day's blog CD DVD blog.
###