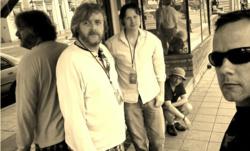 ...progressive rock fans hail Discipline's "Unfolded Like Staircase" as the best progressive album of the 1990s
Detroit, MI (PRWEB) July 01, 2012
Progressive rock icon Discipline has returned with a full length studio recording entitled "To Shatter All Accord." For fans of music having unusual time signatures, raw musicianship, Mellotrons, and twenty minute epics that take the listener on a psychedelic trip, "To Shatter All Accord" delivers all the goods. The release has five all new tracks including the 24-minute song-suite "Rogue." http://www.strungoutrecords.com/
"To Shatter All Accord" features the classic lineup heard on their 1997 album "Unfolded Like Staircase." Jon Preston Bouda plays guitars, Mathew Kennedy plays bass, and Paul Dzendzel plays drums. Front-man Matthew Parmenter a.k.a. The Magic Acid Mime sings and plays keyboards and electric violin. See the Video "The Making of To Shatter All Accord."
In May 2012, Discipline performed at the Rites of Spring festival in Gettysburg, PA. It was the band's first live performance since the release of "To Shatter All Accord." http://www.rosfest.com/
Discipline formed as an art rock band in 1987. They gained a following in the Detroit area performing unusual original music with a live show memorable for theatrics. After several years releasing cassettes, the band toured Norway in 1993 in support of their first CD release "Push & Profit." After backing out of a 1995 record deal with a label co-based in the Netherlands and the USA, the band went on to record "Unfolded Like Staircase" independently. Many progressive rock fans hail Discipline's "Unfolded Like Staircase" as the best progressive album of the 1990s.
Over the years Discipline has shared the stage with numerous performers including Steve Howe of Yes, Fish of Marillion, Peter Hammill, IQ, Anekdoten, Echolyn, Tiles, Ozric Tentacles, and The Flower Kings. You can see a video clip of the band live.
In the 1990s, the band played five consecutive years at North Carolina's ProgDay, the world's longest running progressive rock festival. http://www.progday.net/
Discipline performed at NEARfest in 2008. http://www.nearfest.com/
For additional information, contact Discipline at their website: http://www.strungoutrecords.com/
Discipline is a registered trademark of Strung Out Records.
###
Contact:
Strung Out Records
P. O. Box 1587
Royal Oak, MI 48068-1587
USA
Email: discipline(at)strungoutrecords(dot)com
Phone: +1.248.812.9322
Web: http://www.strungoutrecords.com/