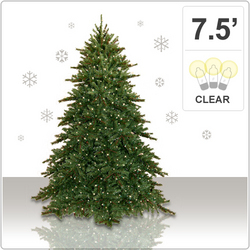 Even though most consumers are still going to be putting up a Christmas tree for their holiday parties, they will be looking for discounts
Beaverton, Ore. (PRWEB) December 4, 2008
With the slowdown in the economy, most people are reacting by cutting back this holiday season. In a recent survey, ChristmasTreeMarket.com learned that 57% of consumers are planning on reducing their spending on Christmas gifts this year.
People appear to be more willing to forgo or get creative with their Christmas presents but are not as interested in giving up their holiday decorations or parties. The same survey showed that only 7% of people would be cutting back on holiday parties and a mere 6% would not be putting up a Christmas tree this year.
"Even though most consumers are still going to be putting up a Christmas tree for their holiday parties, they will be looking for discounts," commented Topher Ball, a spokesperson for ChristmasTreeMarket.com. "ChristmasTreeMarket.com is offering spectacular deals on all our traditional trees and colorful trees, so that anyone looking for a discounted artificial Christmas tree can find one at our store."
All of ChristmasTreeMarket.com's artificial Christmas trees are currently on sale. Each week, the website makes one Christmas tree an even greater bargain at 50-70% off regular prices. If that tree isn't appealing, there are still plenty of other cheap Christmas trees to buy. With prices like this, consumers who might be able to find extra room in their budgets to fit in a few more holiday gifts.
About ChristmasTreeMarket.com
ChristmasTreeMarket.com is an online retailer of artificial Christmas trees and décor. With the stated goal of taking the hassle out of decorating for the holidays, they offer discount artificial Christmas trees, wreaths, garlands and tree skirts in styles running from traditional to outside the box.
###