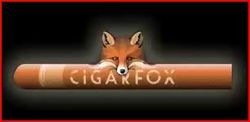 For just $14.99, customers can enjoy three special cigar brands.
Troy, MI (PRWEB) October 7, 2008
In a special limited offer, CigarFox.com (CigarFox.com) has announced a 4-Pack of premium cigars for only $14.99.
"The normal retailing price for these cigars is $26.00 so this is certainly a great offer for our cigar clients," commented Dan Jenuwine. "For just $14.99, customers can enjoy three special cigar brands."
The 4-pack (available at cigarfox.com) starts off with a Playboy by Don Diego. The Playboy by Don Diego is known for its zesty flavor, rich aromas and luxurious image. Over the years, this cigar has become an American favorite of many a cigar connoisseur.
Next is a Hoyo de Monterrey Excalibur. This Excalibur is graced with a dry and spicy aroma. This fuller bodied Hoyo de Monterrey Excalibur is a favorite for cigar aficionados who enjoy full flavored Honduran cigars -- but not too full.
Also included is the Macanudo Hyde Park Robust. Aptly named, this cigar is boasting in a rich flavor and can be considered medium bodied, but full flavored. The Macanudo Robust is perfect for those Macanudo lovers who want a little bit more "robustnesss" in their cigars.
The last cigar in the 4-pack sampler is worth the whole price of admission. The Gurkha Regent Torpedo is a discontinued cigar and when these are gone, there will be no more. Gurkha has announced they are no longer producing one of their best selling cigars the Regent Torpedo. Rated '90' by Cigar Aficionado, the box-pressed blend is composed of Dominican Piloto & Cuban Ligero, an Indonesian binder and an exquisite, Nicaraguan Havana 2000 wrapper.
In addition to this pre-selected Cigar sampler, CigarFox.com provides users the ability to create their own cigar sampler by hand-selecting individual cigars and adding them to a box. Website guests will enjoy mixing and matching the specific cigar brands, flavors and sizes that they want; in place of pre-made samplers that contains items the smoker may not wish to purchase. Full cigar boxes, cigar tins and cigar accessories are also available at the website.
The Jenuwine Family has been involved in the Tobacco business for more than 50 years. In 1996, the family's mail order cigar business was opened as a Michigan-based corporation owned and operated by Daniel J. Jenuwine. From an initial catalog containing 11 items that was mailed to 5,000 consumers, the business today has more than 2000 items in its catalogs and on its websites and mails more than 500,000 consumers annually. The company sold more than 1 Billion cigars in 2007.
About CigarFox:
CigarFox provides you the opportunity to build your own sampler of the finest cigars that include cigar brands like Montecristo, Romeo & Julieta, H Upmann, Macanudo, Cohiba, Partagas, Gurkha and many more. Choose from more than 1200 different cigars! Other cigar products include cigar humidors, cigar boxes, and cigar accessories like Zippo Lighters. For more information, please visit CigarFox.com
Contact:
Tommy Paull
CigarFox
PO Box 1467
Troy, MI 48099
news @ CigarFox.com
###