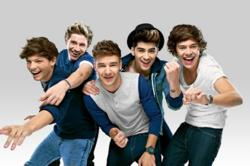 QueenBeeTickets.com is excited to offer a huge selection of One Direction tour tickets at reasonable prices.
Germantown, Wisconsin (PRWEB) June 07, 2013
The group kicked off the Take Me Home Tour in February, and performances were held in Europe from February through May. One Direction returns to North America with two shows in Mexico City on June 8 and 9. Following the performances in Mexico, the band will perform a long list of concerts in the United States and Canada.
On June 13, One Direction will resume its popular tour in North America, and fans around the country are searching for discount One Direction tickets. QueenBeeTickets.com has acquired additional seats and has priced them to sell. One Directioners can use promo code "DISCOUNT" for additional savings on any tickets.
It is not too late for 1D fans to find discount One Direction tickets for the Take Me Home Tour. QueenBeeTickets.com still has an impressive inventory of discount concert tickets for this tour and other popular summer tours.
The Take Me Home Tour was originally scheduled to take place in the United Kingdom and Ireland. However, numerous additional concert dates have been added around the world due to the incredible demand for One Direction tour tickets.
In addition to shows in Mexico, the United States and Canada, fans can also purchase discount One Direction tickets for performances in Australia and New Zealand. At this time, a total 128 shows are a part of the Take Me Home Tour schedule. One Direction has also announced that the new Where We Are Tour will take place in 2014.
Whether music fans are searching for One Direction tour tickets or other discount concert tickets, they can find what they need by searching QueenBeeTickets.com. The website is proud to offer some of the lowest live event ticket prices on the Internet. In addition to discount concert tickets, fans can also find MLB tickets, country concert tickets, Broadway tickets and more at QueenBeeTickets.com.
Company Info:
QueenBeeTickets.com has built its business on a foundation of low prices and excellent customer service. Since the website partners with the world's largest ticket exchange, customers can choose from an unbeatable variety of sports, concert, theater and other event tickets. QueenBeeTickets.com is even able to offer tickets for events that are listed as sold out from other sources.