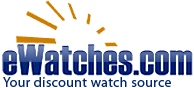 Glam Rock has taken the world by storm—especially amongst the elite Hollywood set. We encourage all our fashion friends to log on and grab one of these fantastic creations while stocks last.
Hollywood, FL (PRWEB) July 24, 2012
Online watch retailer, eWatches, is home to an extensive collection of quality discount designer watches. It's also the host to many not-to-be-missed sales. Indeed, eWatches today announced it kicked off a sale like no other yesterday, discounting all collections from the popular watch designer Glam Rock.
This year Glam Rock has become increasingly popular with Young Hollywood's stars and starlets. Celebrity fans of the contemporary designer watch time pieces include both Miami Heat Champions, Chris Bosch and Lebron James, as well as socialite Kim Kardashian. Even tiny TV Personality, Chuy Bravo, from late-night talk show, Chelsea Lately, has been seen accessorizing his mini wardrobe with Glam Rock's boldly designed men's watches and women's watches.
More so than ever, watches are all about personal style and Glam Rock has perfected this notion. They have found a way to capture the individual's style while still holding the traditional essence of the wristwatch. Their signature features include a changeable case that styles and protects the designer watch face and an easily replaceable strap so the look of the watch can be changed up in an instant. Both the Glam Rock men's watches and women's watches are therefore extremely versatile accessories and assets to any wardrobe.
The fun designer watch comes in many popular styles, including the Miami Beach Chronograph as well as the Palm Beach Women's collection, both of which are on sale now at eWatches.com
eWatches is a one-stop shop for the best in quality discount designer watches for men, women, and even children. The award winning on-line retailer is known nationwide for their drastic sales on designer goods and even more so for their extensive collection of over 100 different designer watches. Customers can guarantee 100% satisfaction and trust they are in the right hands. eWatches keeps shoppers up to date daily with what's hot and what's not by showcasing top sellers. They even have a new live chat feature enabling customers to ask the questions they want to have answered, making it easier to make that all important decision—"which discount designer watch should I buy today?"
Swiss Legend, Seiko, Lucien Piccard… eWatches has it all, with prices reduced by up to 92% off the MSRP. This, as well as offering free ground shipping on all orders, explains why eWatches is quickly becoming the number-one name in discount designer watch shopping.
The eWatches Glam Rock Savings Event is on now.
About eWatches
eWatches.com is an award-winning website that has been selling watches to tens of
thousands of satisfied customers since 2003. In both 2007 and 2008, Inc. Magazine
selected eWatches.com as one of America's 500 Fastest Growing Companies in its
annual Inc. 500 list. eWatches gives customers a superior shopping experience with:

Free Shipping on all domestic orders
100% Satisfaction Guarantee
Low Price Guarantee
30 Day Money Back Guarantee
To get the latest information follow eWatches on Facebook and Twitter at 'ewatchescom'.