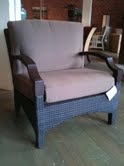 This magic fabric really is the Holy Grail if you have kids, pets, hair, dirt, sun, lots of wear and tear—it fits all situations!
San Francisco, CA (Vocus/PRWEB) July 15, 2011
The latest "miracle" fabric is not just for poolside anymore, says San Francisco interior designer Christine Reddy, owner of Great Finds (a service that sells luxury brands of furniture samples at up to 80% off retail and special orders at up to 40% off). The fabrics aren't available in just "cabana stripes," either. It's what used to be the stiff, plastic-feeling, basket-woven stuff we grew up with and everyone remembers as Sunbrella®. Today, this material is made by several manufacturers, has evolved and improved greatly, and has adopted many other names. It's durable, easy to clean, comes in a wide variety of colors and patterns, and much softer than it used to be, making it an ideal fabric for outdoor and indoor furniture.
"This magic fabric really is the Holy Grail if you have kids, pets, hair, dirt, sun, lots of wear and tear—it fits all situations!" says Reddy. "Have a table skirt, breakfast chairs, or draperies that are exposed to high traffic, heavy use or direct sun? Who doesn't? Now you can select a fabric that you can wash with soap and water and air dry. And it naturally repels the growth of mold and provides up to 98% UV protection."
The secret is in the chemistry—literally—because it's a solution-dyed acrylic. The durability, mold-resistance, wind and sun and rain resistance, color retention, shape retention and easy cleanability are created when the fabric is made.
"Remember the tired, old cabana stripes in black or navy?" asks Reddy. "Not anymore." The fabric houses have taken Sunbrella®-style weaves to a whole new level. For instance, Kravet, the well-known fabric house with thousands of textiles, has their own line called Soleil. Other textile houses have followed suit, to shoppers' enjoyment.
They make it in tons of colors and prints, patterns and weaves. As demand has exploded, so has the variety. "Get ready for chenilles, brocades, dobby weaves, twills, checks, piques, pin dots, canvas, and prints and murals with banana leaves, Chinoiserie, Egyptian motifs, tropical scenes, and on and on. You just won't believe the array," Reddy exclaims.
The "hand" has improved vastly, also. The fabric drapes better and feels softer. Reddy notes, "When you sit on a bench or chair indoors, it just might be a new, improved indoor-outdoor acrylic fabric."
Great Finds has access to two warehouses full of furniture for outdoor living enjoyment, all with indoor/outdoor fabric, and all at healthy discounts, some up to 80% off, starting at $488. "Call today for the best selection on dining sets, lounges, chairs, tables, seating groups, servers, wrought iron, teak, etc. Also, save 20-40% on new orders for designer-name outdoor furniture."
Reddy's service offers clients exclusive access to the "trade-only" Design Center showrooms, where they can save thousands on better name pieces without having to wait for a sale or settle for a knockoff. Her home decor buying services with slim markup will save customers 25-40% & MORE on orders for fine furniture, fabric & accessories and up to 80% on floor samples. Design services are reasonably priced and her room makeovers are astounding. Special offers are frequently mentioned on the website.
For free price quotes and helpful advice on new fabrics and furniture for outdoor and indoor living, San Francisco discount furniture, professional design services, or personalized shopping trips to the San Francisco Design Center with Great Finds, call them at (415) 658-9304 or visit http://www.greatfinds-bayarea.com.
About Great Finds
Great Finds is an interior design company that specializes in a range of design services in San Francisco. They offer E-TAIL shopping online with assistance by phone. They also offer in-person consulting, design, and discount shopping services as well as "Miraculous Home Makeovers Without Buying New." Great Finds enables the public to purchase internationally-acclaimed brands of designer furniture at exclusive trade-only discounts. Great Finds serves all communities of the San Francisco Bay Area. They also ship out of state.
###