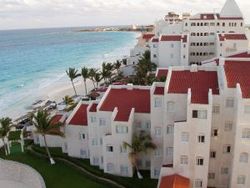 (PRWEB) March 20, 2008
Are the days of the family road trip numbered? Are families demanding more exciting holidays to exotic destinations? How much influence does today's media rich world have over the simple family holiday? HotelClub.com surveyed its users to discover what type of family holiday they would be taking.
HotelClub.com found that 53% of customers prefer an overseas tropical break to a more traditional family holiday of a road trip (14%) or a camping/outdoors experience (14%). When comparing 2008 Easter period with 2007, HotelClub.com booking patterns show that people are using the Easter period to stay away for a duration of 3 nights compared to 2 nights in 2007. In 2007, 60% of customers indicated that they were staying at home during this peak travel time.
Additionally, HotelClub.com found that parents with kids are opting for resort styled accommodation that includes a kids club to allow the parents to have their 'personal time' and for the kids to enjoy specially catered activities that keep them occupied for longer. This also reduces the inevitable whinging and whining from the kids - which allows for HotelClub.com's often stress-out parents to take some much needed relaxation time!
The top 10 destinations for 2008 Easter Break are:

Here's hoping the Easter Bunny brings lots of treats this Easter. Visit Hotel Club for discount hotels.
About HotelClub
HotelClub, a wholly owned subsidiary of Orbitz Worldwide Inc, is a world leading global accommodation e-wholesaler and specialist distributor of discount hotel rooms inventory over the Internet. HotelClub was established in 1996 and has since held the position of Asia Pacific's leading online accommodation provider. The company operates three websites - HotelClub.com (http://www.HotelClub.com), RatesToGo.com (http://www.RatesToGo.com) and asia-hotels.com (http://www.asia-hotels.com). HotelClub is recognised as one of the few highly successful and profitable e-commerce businesses with a worldwide network of offices. Orbitz Worldwide (NYSE: OWW) is a leading global online travel company that uses innovative technology to enable leisure and business travellers to research, plan and book a broad range of travel products.
###