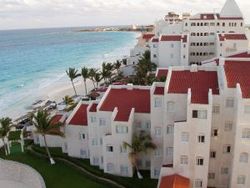 Our research has shown us that travelers want a different, better way search for complex trips than just by dates and destinations
(PRWEB) March 20, 2008
Planning a beach vacation isn't always just about finding sand and sun. From choosing a destination that caters to particular interests to booking a cheap hotel that meets specific needs, getting it all right can be a challenge. To help beach-goers find the getaway that's right for them, Orbitz (http://www.orbitz.com), keeping travelers "A Step Ahead™," today launched an innovative new search tool called MyIdealBeach.com (http://www.myidealbeach.com).
MyIdealBeach.com asks travelers three simple questions about who is traveling, preferred vacation activities, and desired hotel options to provide information that will help determine the best choice for him/her. The tool then searches over 450 of Orbitz's top beachfront hotels in the US, Caribbean, Mexico and South America that have been handpicked and then ranked by Orbitz's team of Hotel Market Managers based on these criteria. Travelers can then choose from a recommended list of these select discount hotels that most closely match their ideal beach.
"Our research has shown us that travelers want a different, better way search for complex trips than just by dates and destinations," said Heather Leisman, Senior Director of Merchandising for Orbitz. "MyIdealBeach.com marries the expertise offered by a traditional travel agent with the ease, convenience and breadth of options offered by an online travel site."
When visiting MyIdealBeach.com, travelers will be prompted to identify who is traveling, choose the activities they want available at a beach destination, followed by their preferred hotel amenities. There are beachfront hotels in locations such as Bahamas hotels.

Who's Traveling: Family with kids, Couples, Honeymooners, Solo Traveler, Friends
Interests/Activities: Shopping, Dining, Casino, Golf, Nightlife, Culture, Fishing, Scuba/Snorkeling
Hotel Options: Kid-friendly, Private Beach, Spa, All-inclusive resort, No passport required, Adults-only, Gay-friendly, Water sports, Waiter service on the beach.
In addition, travelers can modify their results based on region and sort results by price, location, and hotel star rating.
"We're breaking new ground in the online travel industry with this intuitive search method," added Leisman. "Starting with helping travelers find the ideal beach destination, Orbitz is redefining how our customers can search for and book travel."
A link to MyIdealBeach.com can be found on the Orbitz homepage (http://www.orbitz.com) or by going directly to http://www.myidealbeach.com.
About Orbitz Worldwide:
Orbitz Worldwide (NYSE:OWW) is a leading global online travel company that uses innovative technology to enable leisure and business travelers to research, plan and book a broad range of travel products. Orbitz Worldwide owns and operates a portfolio of consumer brands that includes Orbitz, discount hotels provider HotelClub, late rate hotel specialists RatesToGo and the Away Network and corporate travel brand Orbitz for Business (http://www.orbitzforbusiness.com/). For more information, visit the Orbitz Worldwide Investor Relations website at http://www.orbitz-ir.com.
###