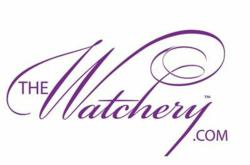 Hollywood, Florida (PRWEB) February 10, 2012
In less than one week, Valentine's Day will be here. But what does one get the special man or woman in their life who has everything? A new watch, of course! Like fast cars, there aren't many men who don't get a little excited by a beautiful new luxury watch at a discount price. Meanwhile women nowadays regard their watches as an important fashion accessory that can change up one's look.
In lieu of the international holiday for lovers, The Watchery is currently hosting a Valentine's Day sales event through February 14th. All watches featured in the sale boast incredibly low prices. So low, in fact, that you can score a fabulous designer watch or luxury watch at up to 86% off the recommended retail price.
Many of the discounted retailer's most popular luxury watches and designer watches are featured in the Valentine's Day sale, including Invicta, Movado, Swiss Legend, Stuhrling, Lucien Piccard and UBoat.
During the Valentine's Day Watch Sale, The Watchery is also offering deals for everyone. In addition to watches for your loved one, there Is also an exciting selection of kids watches. Activa watches start at just $10.99, and Hello Kitty watches can be yours for as little as $24!
At The Watchery Valentine's Day shoppers can find the cheapest prices on a wide range of men's watches and women's watches. Our vast selection of designer Swiss watches, dive watches, aviation watches or chronograph watches will help you pick out the perfect wrist watch for your sweetie… or yourself.
One of our favorite men's watches in the sale is the Invicta S1 Men's Rally. The black leather strap, 18k gold-plated watch face and square watch case lend the watch a classically chic appearance. The recommended retail price for this stylish luxury watch is $995 but in our Valentine's Day The Watchery sale we've marked it down by a remarkable 69% so it is just $305. Plus, we'll throw in free shipping!
The Watchery's Valentine's Day sale is a fabulous opportunity to score a wonderful deal on a beautiful watch for your loved one.
To browse The Watchery's collection watches in the Valentine's Day Sales Event, visit TheWatchery.com or call the retailer at 866-752-3681.
###