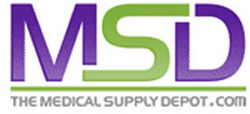 Whatever name brand medical supplies our customers order, whether for a medical office or for home delivery - diabetic supplies, incontinence supplies or Invacare wheelchairs or Zipr scooters - the new features really enhance the shopping experience
Brooklyn, NY (PRWEB) April 21, 2009
It's easier than ever to purchase discount diabetic supplies, Invacare walkers, Zipr Electric Scooters, Drive Medical aluminum rollators, and other name brand medical supplies. TheMedicalSupplyDepot.com announces a newly renovated website, designed to ensure customer satisfaction with new user-friendly features and added helpful information. Now home health care customers are empowered to find, compare, evaluate and purchase the same trusted-brand discount medical supplies the online store has always provided.
"Whatever name brand medical supplies our customers order, whether for a medical office or for home delivery - diabetic supplies, incontinence supplies or Invacare wheelchairs or Zipr scooters - the new features really enhance the shopping experience," says owner Meir Tsinman.
New shopping tools include Quick View, Recently Viewed Items, Live Chat, and an item comparison tool. Shoppers can also filter by price, brand, and for more complicated purchases like wheelchairs and scooters, they can use seat width, drive type, storage and other filters.
TheMedicalSupplyDepot.com online superstore sells name brand medical supplies, walkers and wheelchairs, and more. Free shipping on items over $100 and a 30-day money-back guarantee on non-hygienic items are important benefits, but the new website has gone a step further, according to Tsinman.
"When we designed the new site, we wanted to make sure our customers would have the information they needed to make the right purchases. At the new site, all items come with as much helpful information as possible, making it easy to shop for everything from urological supplies and disposable medical supplies to mobility aids. Whether customers need help with diabetic supplies or assistance choosing wheelchairs, rollator walkers and three wheel scooters, they'll find it here."
In addition to providing comprehensive guides, the discount medical supplies resource also offers an automatic reordering system, an MSD discount club, special pricing on corporate accounts, an expert sales staff, complete security, toll-free support, fast delivery and tax-free purchasing outside New York.
Diabetic, urological, ostomy, and incontinence supplies, walking aids, wheelchairs and scooters, and more can be found at TheMedicalSupplyDepot.com.
About TheMedicalSupplyDepot.com:
Based in Brooklyn, New York, TheMedicalSupplyDepot.com is designed to make home health care easier. More than 25,000 name brand medical supplies and equipment are available at competitive prices. Daily living supplies, incontinence, urological, ostomy and diabetic supplies, and mobility devices are available from the online medical supplies store. Top brands include Invacare, Drive, Nova, Graham Field, Zipr, ActiveCare, Golden Technologies, Alex, Hollister, ConvaTec, Dynarex, and ADC.
Expert salespersons provide information and assistance, and ordering systems and shipping, delivery, and return policies maximize customer benefit. Most orders are delivered in three business days or less from the date shipped, though some items may take a week to arrive. TheMedicalSupplyDepot.com, driven to provide superior customer care, also encourages customers to submit product reviews and contact customer support if they need assistance.
###