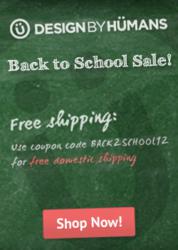 Use Coupon Code: Back2School12 for Free Shipping. Check out the Tee Grinder, Last Chance, and the Most Wanted Section for the Best Back to School Deals
Irvine, Ca (PRWEB) August 02, 2012
From August 1, to September 10th use coupon code BACK2SCHOOL12 to receive free shipping on all domestic Design By Humans orders. Whether you buy 1 graphic tee or 10 they are all mailed for on this back to school sale. There are also other ways to save money at designbyhumans.com. Get discount T Shirts from the Tee Grinder for 3 shirts for $25, and the last chance section for t shirts on sale. Go back to school with money in your pocket, and a head start on this years trending t shirts.
Back to School Deals

Free Shipping on all Domestic Orders, Use Coupon Code backtoschool12
Tee Grinder 3 shirts $25
Last Chance Sale
$10 kids Tees
Upload a picture of you in a Design By Humans shirt to your profile and earn a free DBH Dollar.
Back to Cool
The back to school sale is a great way to stock up of new shirts for the reason of the season. There are hundreds of eye-catching designs sure to keep you pushing the trends with cool graphic t shirts. Back to School is an excellent way to establish a style for the new school year. Getting the right back to school clothing is a nice way to refresh the wardrobe with fresh new shirts, jeans and kicks.
If the budget is low this summer, check out the Tee Grinder where you can buy three t shirts for $25. A fun interactive way to save money on graphic t shirts. The sale section includes, 9, 12, and 15 dollar shirts.
Other ways to save money is the DBH closet. Simply upload a picture to the profile closet with you in a Design By Humans shirt. Get creative with different shirts, angles and themes. Once approved there will be a dollar credit attached to your account. For each accepted image the user earns a free DBH buck for purchase on the next t shirt purchase.