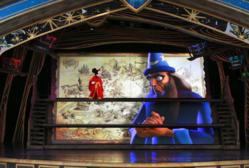 Save up to $26 per person... for the new live show Mickey and the magical map...your savings and quest awaits!
Anaheim, CA (PRWEB) June 03, 2013
Discount Disneyland tickets for Limited Time Magic 
The mouse continues to step up his game with the new live show "Mickey and The Magical Map" that's now open at Disneyland. To celebrate Disneyland is running a promotion for "Limited Time Magic" June 3-June 9, 2013. All guests who attend the new show will be invited to extend their experience with Mickey's Compass Quest.
At the end of the show, all guests will get a special map to follow clues inspired by this wonderful musical to secret spots around the park. You will uncover hidden markers, and when you complete each of the challenges, you take home a special reward!
About the Company:
Best Tickets Here is a licensed ticket broker in Anaheim, specializing in providing discount Disneyland tickets and other Southern California theme parks. Best Tickets Here has been in business for over 5 years and has an "A" rating with the Better Busines Bureau. There is no better place to get your cheap Disneyland tickets. They have the best customer service, and a super easy ordering system. Their discount Disneyland tickets are available for 1, 2, or 3 day visits. Save up to $26 per person, so what are you waiting for? Your savings and quest awaits!