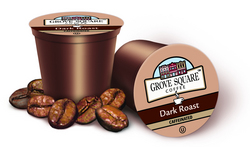 "Today, we're pioneering an alternative for the single cup coffee market with Grove Square™ and saving customers up to 20% over other available products."
St. Louis (PRWEB) November 17, 2010
At a time when coffee prices are at a 13-year high and many coffee roasters are raising prices, consumers can breathe a sigh of relief when it comes to their single cup coffee. That's because Grove Square™ Single Cup Coffee, for use by owners of Keurig® coffee makers, has entered the market at a 20% lower price point, and is now available online at the internet's low-price coffee leader – DiscountCoffee.com.
Grove Square™ Single Cup Coffee launched this month in select outlets. The product offers a lower price point than other brands available to owners of Keurig® coffee makers without sacrificing quality. DiscountCoffee.com is the first internet retailer with worldwide distribution to carry the three varieties of Grove Square™: light, medium and dark roast.
DiscountCoffee.com was selected to carry Grove Square™ Single Cup Coffee because of its strong internet presence and its commitment to providing customers with quality products at the lowest possible prices. The company serves both office coffee buyers and individual consumers, typically offering savings of up to 60%.
DiscountCoffee.com CEO Kirby Newbury said "Since 1998, DiscountCoffee.com has been a pioneer in creating new ways to save customers money on coffee. We were the first to sell coffee, tea and break room supplies online, saving office coffee buyers up to 60% over traditional office coffee services. Today, we're pioneering an alternative for the single cup coffee market with Grove Square™ and saving customers up to 20% over other available products."
Grove Square™ Single Cup Coffee is a naturally roasted, soluble, microground Arabica coffee. Microground coffee has proven its great taste and popularity in the marketplace with successful launches earlier this year by other coffee companies. "One popular soluble, microground coffee brand, launched in 2009, has been wildly successful, with reported sales at over $100 Million to date. While each brand and formula is unique, the public has already said 'yes' to this new form of coffee. Grove Square™ has now formulated a microground, soluble coffee for owners of Keurig® coffee makers," said Newbury.
Grove Square™ is currently available online at DiscountCoffee.com in all three varieties: light, medium and dark roast. The product is being sold by the box, with 24 cups per box at an introductory sales price of $9.88. Cases of 96 cups are available at a price of $39.
About DiscountCoffee.com
DiscountCoffee.com was established in 1998 as a money saving alternative to traditional office coffee services, thus creating the Internet Coffee Service industry (ICS). Today, the company maintains the commitment to providing high quality coffee, drink mixes, and over 1000 break room supplies at up to 60% savings. DiscountCoffee.com educates businesses and consumers about "hidden charges" associated with free equipment and contract-based invoicing, and empowers them to take charge of their coffee buying through the website's easy-to-use, secure online ordering. The company ships its full offering of product to all 50 states, offers low price guarantees, free shipping, and no minimum order requirements. For more information, please visit http://www.discountcoffee.com.
###