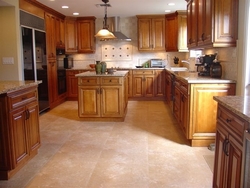 We have created a very successful business model which greatly benefits the customer and we are excited to be able to offer these benefits to consumers nationwide
Pompano Beach, FL (PRWEB) March 5, 2009
More and more consumers are putting off essential kitchen remodeling because they are under the assumption that a new kitchen is simply not in their budget. Fortunately, Mei Kitchens is proud to be able to offer consumers all wood kitchen cabinets and other kitchen remodeling components for a fraction of the cost.
A direct manufacturing kitchen cabinet and accessories company, Mei Kitchens affords consumers the opportunity to purchase items at a discount for anywhere between 30% - 60% off retail prices. Consumers often assume that lower prices are in direct correlation to lower quality, however, that is simply not the truth. Mei Kitchens' cabinets are crafted with all wood. Solid wood doors and plywood cabinet boxes are usually offered as upgrades at most home centers, but at Mei Kitchens - all wood cabinets are the standard.
Mei Kitchens is able to offer such great prices on their products because they sell factory direct cabinets. Mei imports their products from overseas manufacturers and then sells products directly to the consumer, at a strong discount compared to big box competitors. There are no middlemen, which mean there are no added mark-ups and additional costs.
Offering products through a multi-faceted website allows Mei Kitchens to further cut down on costs and offer customers a more personalized experience. The website is equipped with a multitude of tools and information to make a consumer's experience as easy and interactive as possible. Tools include a quick quote function which helps customers gauge an approximation of the cost at different levels of kitchen customization, real time inventory, an online project management tool, a 20/20 design of your desired kitchen, and live chat services. Design consultants are also available to offer assistance to consumers who aren't sure exactly how to design their kitchen.
A well established company that specializes in ready to assemble cabinets, Mei Kitchens focused on serving local customers for several years prior to launching their national business. "We have created a very successful business model which greatly benefits the customer and we are excited to be able to offer these benefits to consumers nationwide," said Sean Lin, CEO of Mei Kitchens.
With a wavering economy at hand, consumers are looking for true value in every product that they purchase. While some retailers may be cutting corners during this down time, Mei Kitchens always strives to exceed customer expectations and would never compromise the quality of its products. Mei Kitchens encourages consumers to do their research and compare Mei Kitchens' discount kitchen cabinets to the products offered by the industry giants. "We are fully confident in our products. The craftsmanship, quality of materials, and sleek designs coupled with the low prices will make it very difficult for consumers to find true value anywhere else," said Sean Lin, CEO of Mei Kitchens.
Mei Kitchens, formerly Destiny Cabinets, is a leading online retailer of all wood kitchen cabinets and accessories. Serving the kitchen cabinet industry for 5 years, Mei Kitchens has developed a strong understanding of consumers and their needs. Mei Kitchens is based in Pompano Beach, FL.
###