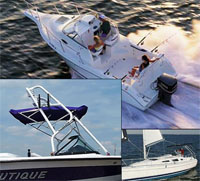 I am confident that the new lines of marine stereo equipment will bring years of quality sound and entertainment to boat owners.
DeBary, FL (PRWEB) July 24, 2012
Voyage Electronics, one-stop easy to shop online resource for boat parts, boat accessories and sailing gear just introduced a new line of Pioneer and Alpine Marine Stereo Systems. The online marine store known for it's large selection of marine products has now added high-end audio systems for boat owners. These new products are a great addition to any marine craft with weatherproof design that will extend the life of the product for many years.
"I am confident that the new lines of marine stereo equipment will bring years of quality sound and entertainment to boat owners," said Paul Thomas, CEO of Voyage Electronics.
With such a selection of marine audio systems what should boat owners look for when selecting an audio system? Unlike car audio components — which live in the watertight interior of a vehicle — marine equipment has to be able to stand up to the elements. The water, salt, and sun that make cruising around the waves so much fun can also wreak havoc on electrical components. If gear isn't designed to withstand this sort of abuse, it won't last a season. Mother Nature shouldn't keep boat owners from installing high-end audio systems. Making sure the equipment is water resistant, UV resistant and has anti-corrosion protection is important.
Components can be mounted inside the cabin, then controlled with wired remote control. Covers and mounts will protect a boat's in-dash stereo from sun and spray, plus allows boat owners to mount handheld electronics anywhere on the boat. Sealed weatherproof designs that will stand up to the sun, sand, and water. Control stereo equipment with weather resistant marine remotes. Most include illuminated buttons to ensure easy day-or-night control of basic playback functions.
Considering the specs of any audio equipment will ensure better sound quality. For receivers, a high CD signal-to-noise ratio, a wide frequency response, and plenty of RMS power is preferred. In radio, the FM sensitivity spec should be lower - the lower the better.
Today's aftermarket components offer of a wide variety of A/V entertainment options. USB inputs allow for USB memory devices, like thumb drives, that load music files. And some USB inputs offer iPod connection and control. Multiple sets of preamp outputs make it easier to connect and control external amplifiers and subwoofers.
Cruising miles off shore may require the entertainment value of satellite radio — satellite radio signals can reach up to 200 miles. Another consideration is Bluetooth® if available built in or as an option. It provides the ability to make and receive mobile calls hands-free.
Visit Voyage electronics at http://www.voyageelectronics.com/ for more discount marine products, accessories and sailing gear. All marine manufacturers dedicated to marine electronics and watersport equipment.