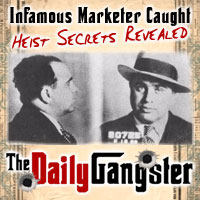 Not since the days of Al Capone has anyone seen a business model like this... Everybody's smiling at the end of the day.
Los Angeles, CA (PRWEB) October 18, 2011
The frenzy has begun, Groupon has become a game-changer in connecting local buyers to local businesses and WOOT has put "one day, one deal" on the map with remarkable results... but for gurus, authors, experts, speakers, trainers, software tool makers and the many providers that sell stuff to entrepreneurs, marketers and business owners... there's never been anything that can drum up business in a Woot-like or Groupon-like frenzy. That is, not until now...
At the Daily Gangster, there are tons of business oriented buyers with credit cards and cash in their Daily Gangster accounts, literally waiting for the next Daily Heist. Many members also have "Gangster Bucks" (a virtual cash members earn for referring friends). And every day, like the rapid-fire of a Tommy gun, the Daily Gangster releases a new deal that drives member purchases. Some featured merchants have seen impressive one-day sales.
Happy Days Are Here Again
"Not since the days of Al Capone has anyone seen a business model like this," states Dan Hollings, co-founder of the Daily Gangster. "Customers are getting deals so good they feel like they stole them, while vendors, experts and product creators are making more money than a successful moonshiner during prohibition. Everybody's smiling at the end of the day."
Here's the line up of product types:

Online Training Programs
How-To & Info-Products
Live Events & Seminars
Marketing Tools & Software Tools
Books & EBooks
Services & Consulting Services
Memberships
Ok Ok, What's the Catch?
Actually there are a few catches... Because so many experts and providers have been wanting a product spot on the Daily Gangster, there's no guarantee a merchant will get a spot. Only one product per day is promoted, so scheduling is tight. All product offerings are screened for quality and discount plus must have inherently high desirability for this target audience - something Daily Gangster members demand.
For those merchants that make the hit list, there's very little work required. Product details and a picture are the minimum requirements. However, merchants must keep in mind that this only works if the product offered is listed at a true discount of 50% or more. In fact, the sweet spot seems to be 60% off or more. Hang on... this is not a St. Valentine's Day Massacre. In fact in most cases, the discount acts like a magnet, draws in solid sales, and many merchants feel like they've pulled off a big bank heist.
Ludicrous? Where's the Money?
Some might think it ludicrous to sell a prime product for such a deep discount, but there are overwhelming reasons this is proving smart and profitable strategy:
It's only one day. It does not effect any other marketing or pricing a merchant might have going.
Merchants secure a high number of sales in a very short period of time and keep 40% of all sales - web deliverables are best.
Merchants have no costs and minimal time investment. (Affiliate fees, Gangster bucks, Processing and Marketing costs are paid for by the Daily Gangster)
Merchants get new customers fast. Many become long term customers.
Merchants get free PR, brand promotion and buzz.
Merchants earn a lifetime 12% bounty on referrals.
No Refunds: The Daily Gangster has a crystal clear "No Refund" policy that all members understand when they join or buy. Merchants can count on all sales being solid and final.
It's more fun than a jailbreak! It may only last one day, but both Merchants and customers are happy.
How to get involved...
For business owners, entrepreneurs or marketers, seeking great deals at great prices, the Daily Gangster consumer is at: http://dailygangster.com
In addition to the daily heists, once a month, the Daily Gangster has a "Gangsters for Charity" deal day with 100% of profits donated to a worthy charity.
Interested product creators and merchants are encouraged to contact the Daily Gangster. To speed up the process, potential merchants must first complete an 8 question "featured product" application at http://dailygangster.com/featured
###