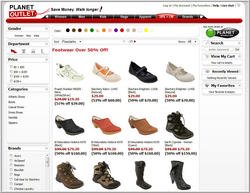 We've launched Planet Outlet to make it easier for consumers to find the best deals on PlanetShoes.com brands
Waltham, Massachusetts (PRWEB) April 10, 2009
Waltham, Massachusetts based Planet, Inc. is excited to announce the launch of the Planet Outlet, found on the web at PlanetOutlet.com.
PlanetOutlet.com is a division of Planet, Inc and will be offering overstock and closeout discount shoes to web consumers nationwide. Including popular brands Earth Footwear, Blowfish shoes, Sketchers and North Face, consumers will be able to buy shoes at discounts from 30% to 80% off the retail price.
"We've launched Planet Outlet to make it easier for consumers to find the best deals on PlanetShoes.com brands," explained Phillipe Meynard, President of Planet, Inc. "Customer service is always our highest priority, so we've kept all the great functionality of our original site, but now every shoe is offered at a great discount and people will be able to find what they need much more quickly!"
PlanetOutlet.com offers over 40 brands in men's, children's and women's discount shoes. They plan to offer bags and apparel in the future and a special department where consumers can find shoes at discounts of 50% and deeper. The site offers a number of excellent features as well including favorites, ability to browse by size, color, style and brand and the Planet Outlet Club where customers can keep up to date with the latest and greatest deals.
Discount and overstock sales websites are one of the few venues experiencing growth in the down economy. In fact, according to Forbes.com the US FED Beige Book has found that discount stores are faring better than many other businesses in 2009. Zappos.com has experienced terrific success with their discount website 6pm.com so this expansion by Planet, Inc. is important to their growth in 2009.
"In this economy consumers are looking for great bargains. We want to support our customers as best we can, offering our healthy lifestyle brands, eco-friendly shoes and brands and all of our high quality brand shoe closeouts and bargains," continued Meynard. "Going forward, we plan to support PlanetOutlet.com by finding more brands and better deals for our customers - and by expanding our product offering. We're very excited to see where it goes!"
About Planet Outlet
Based in Waltham, Massachusetts, Planet Outlet is a division of Planet, Inc. Online since 2001. The company purchases name-brand overstocks and closeouts and passes savings on to its customers. Planet Outlet specializes in Active, Comfortable, Healthy and Earth Friendly products with a flare of fashion at savings of 35 to 80 percent or greater!!
About Planet Inc.
Planet, Inc. is an innovative lifestyle shoe retailer dedicated to selling the most comfortable shoes possible at value prices. Our flagship site found on the web at PlanetShoes.com specializes in active, comfortable, healthy, earth friendly shoes and products with a flare of fashion. Our product lines are ever expanding to bring our customer new fun footwear to choose from. Whether you're an outdoor enthusiast or an eco-friendly fashionista, we strive to offer the selection you want.
We look at affordability and value in pricing our products. Customer service and unique products are our calling card. Planet Shoes strives to exceed your expectations. Contact us directly at 1-888-818-SHOE (7463) .
# # #