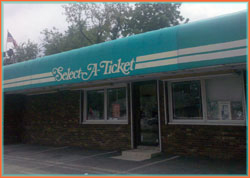 There are bargains to be had on a daily basis and our customers could not be happier than when they purchase discount tickets at SelectATicket.com and pay no added fees at checkout
Riverdale, NJ (PRWEB) June 20, 2013
New Jersey based ticket broker Select-A-Ticket has been selling tickets to sold out performances on Broadway, the biggest concert acts, major national sporting events and more since 1978. What readers may not realize is Select-A-Ticket also sells discount tickets to events, predominantly in the New York and New Jersey area.
Every Thursday the company releases their discounted inventory for upcoming events via an email to subscribers and also posts them to their website at http://www.SelectATicket.com/Discount-Tickets.
While you should not expect to find tickets to something like the Super Bowl available at discount prices, there are sometimes major events to make the list. This summer a few concerts can be expected to be discounted and local area sports fans can often find mid-week Yankees, Mets and Red Bulls games on the discount tickets list.
Large arena tours such as New Kids on the Block with 98 Degrees and Boyz II Men, Pitbull with Ke$ha and others have recently been offered at reduced prices as well.
"Being based in New Jersey, we aim to cater to the local customers and stock tickets to events at several area venues. There are bargains to be had on a daily basis and our customers could not be happier than when they purchase discount tickets at SelectATicket.com and pay no added fees at checkout," says Mark Gibbons of Select-A-Ticket.
About SelectATicket.com
Select A Ticket has been in business over 35 years as an experienced, trusted and secure ticket broker. We sell tickets to Broadway, Concerts, Sports, and Family Events nationwide. SelectATicket has been in the ticketing industry since 1978 and is a proud member of the National Association of Ticket Brokers (NATB). Visit http://www.selectaticket.com to find tickets to all your favorite events or call 800-735-3288 to order tickets by phone.