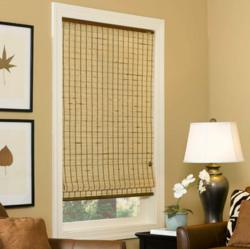 People will see that they can achieve a high end designer look with discount blinds
Denver, CO (PRWEB) September 15, 2011
A lucky family of four benefited from being "HGTV'd" when Design Star winner Emily Henderson transformed a dull, disorganized former nursery into a vibrant living space. The family room redesign is featured on the next episode of HGTV's series HGTV'd, airing Saturday, September 17 at 8 P.M. In the HGTV'd series, an HGTV design star transforms a part of a viewer's home their dream room.
In the HGTV'd "Cluttered Family Room Transformed Into Fun, Fabulous Space for Modern Family of Four" episode, a family room that was originally used as a children's nursery morphed into a cluttered, disorganized multipurpose room. Henderson, the designer, saw the design possibilities in the space and, using color, attractive and functional furniture, and great design details, transformed the room into a true family room. An important design feature incorporated by Henderson was the use of window blinds featuring BlindSaver Advantage Woven Woods.
With styles to suit every décor and a "no fault measuring guarantee," BlindSaver is the premier place to purchase discount blinds. "Of course it's really exciting for our company to have one of our products featured in an HGTV'd segment," said Tim Baker, president of BlindSaver, "and it's also great that people will see that they can achieve a high end designer look with discount blinds."
Designs from the BlindSaver Advantage Woven Woods line provide a relaxed ambiance to any room and are made from select bamboos, grasses, reeds, matchsticks, and natural woods that offer a wide spectrum of patterns and textures. A variety of light filtration and privacy levels are available, along with different finish details that complement any design scheme. Most Woven Woods designs include matching valances, headrail and bottomrail systems made from finely grained basswood, and coordinating edge bandings.
BlindSaver's Tim Baker finds it no surprise that HGTV has incorporated the Advantage Woven Woods into an episode of HGTV'd: "The BlindSaver Advantage Woven Woods line lends warmth to any room design. Plus, the durability of these window blinds and shades makes them a great choice for use in a growing family's home."
About the Company: BlindSaver.com is a leading online retailer of custom window treatments shipped straight to customers' doors. At BlindSaver.com, product information and easily viewable color and fabric swatches are available to all customers. In addition to its BlindSaver brand of window blinds and shades, BlindSaver is also an authorized dealer of other top brands such as Bali, Graber, Levolor, M&B, and Comfortex. BlindSaver customer service and design departments are available by phone at 1-877-388-0336, or through email at customerservice(at)blindsaver(dot)com.
###