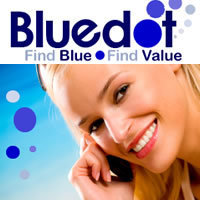 TheBlueDot.net affiliate program, which is now live in LinkShare.com, is already gaining momentum. We are excited to have this program live!
Philadelphia, PA (PRWEB) July 8, 2010
TheBlueDot.net, an online leader in used and refurbished cell phone sales, has launched an affiliate program through the Linkshare Affiliate network. Since 2006, the eretailer has sold over 150,000 cell phones through their site, and looks to expand sales by employing an affiliate marketing strategy.
Affiliates in TheBlueDot affiliate program earn 11-13% commission on all sales they refer. The Blue Dot offers a 60 day cookie for sales referred from affiliate traffic. For those affiliates with multiple online properties, a forthcoming product data feed will allow them to represent TheBlueDot products across their network of sites.
"TheBlueDot.net affiliate program, which is now live in LinkShare.com, is already gaining momentum. We are excited to have this program live!" said Heather Paulson, President of PMG.
By providing used and discount cell phones Blackberry Cell Phones, Apple iPhones, and more TheBlueDot has struck a chord with its customer-base. Data from the EPA shows that only 10% of used cell phones and used cell phone accessories are properly recycled. According to the company's web site, electronic waste had the highest rate of growth in the United States in 2009. Each year, 130 million non-recycled cell phones result in over 65,000 tons of trash. TheBlueDot is making a dent in these figures through its used and refurbished cell phones.
Did you know? TheBlueDot.net will purchase your used cell phone! Visit the site today and sell us your used or unwanted cell phone.
To provide an edge for its affiliates, TheBlueDot has continually updated its inventory of cell phones and cell phone accessories to reflect the latest consumer products. TheBlueDot.net was among the first online retailers to offer iPhone 4G cell phone accessories. Free shipping is also offered on every cell phone order, with no minimum purchase.
Affiliates can sign up for the TheBlueDot.net affiliate program in LinkShare by visiting The BlueDot program page on Linkshare. TheBlueDot affiliate program is professionally managed by Paulson Management Group, Inc, an affiliate management agency based in Boulder, CO.
About TheBlueDot.Net
TheBlueDot is a leading online retailer of new, refurbished, and used cell phones, wireless cell phone accessories and other consumer electronics. At our company we strive to provide the highest quality products combined with the highest level of customer satisfaction. We carry a wide selection of cell phones and wireless cell phone accessories from over 10 cellular phone carriers - including AT&T, Verizon, Sprint, T-Mobile among others.
About PaulsonManagementGroup.com
Paulson Management Group, Inc. is a full service multi-channel, e-marketing management and consulting agency. Paulson Management Group, Inc. is able to provide affiliate program management, paid search engine management, social media management, and SEO management. Interested parties should call 800-384-7760 for more information on services offered by Paulson Management Group, Inc.
###