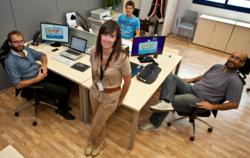 The benefits of Online Shopping across borders by providing easily accessible Bargains from stores all over the World at the click of a mouse.
(PRWEB UK) 1 November 2011
ShopRepublic, a new start-up based in Barcelona, is the new global experience for online shoppers looking for discount prices.
In the world of online discount codes, sites have generally moved domestically, missing out on thousands of smart buyers who are searching for bargains from online shops all over the world.
The partners behind ShopRepublic, Angels Sastre and Giuseppe Perri, are a duo of global citizens. Having lived in four different countries in the last 15 years, they have observed the trend in online shopping. Now Angels and Giuseppe have joined forces to bring the benefits of online shopping across borders by providing easily accessible bargains from stores all over the world at the click of a mouse.
"When we returned home, we always felt like we were missing out on the great sale offers that are available to shoppers in other countries pretty much 24/7," says Angels.
"We believe today's online shoppers are overwhelmed by irrelevant promotional contents not suited to their personal preferences. We wanted to deliver all promotions in a unique message according to their interests," adds her partner Giuseppe.
ShopRepublic offers alerts only when your favourite shop publishes a discount or just receiving promotions on your favourite shopping category. It has the possibility of going into a social gaming experience. Once customers enter the platform, they can start uploading and sharing discounts or reviewing shops and gradually they earn points and badges, going from "Newbie" to "Sage". As they become more savvy, users can access exclusive discounts, gift cards and privileges.
With all the hype behind social shopping, Sastre and Perri say there are still more surprises in the pipeline, including a mobile app and a "just bought" sharing user profile.
At present, the site is up in its beta version in 5 languages, focusing on Spain, UK, Holland, Germany, Sweden, Norway, Finland and Denmark. The full-powered site will be rapidly expanding further afield.
Away from the buzz of daily deals and group buying offers in brick and mortar business, ShopRepublic focuses on offering the biggest possible number of ONLINE discounts to the buyer. Shop Republic has kicked off with an initial round of investment in 2011, including participation from the Spanish Internet Holding Grupo Intercom.
###