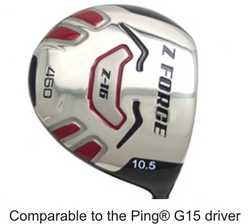 The customized price will be 1/3 of the name brands.
Saint Joseph, MI (PRWEB) March 15, 2010
Purchasing custom fitted golf clubs can be much easier and much less expensive than one might think. Redwing Golf, an online golf equipment retailer, has introduced its new catalog of discount golf clubs for 2010.
Customizing is a snap with the easy-to-read charts. First, select the proper club length by choosing your height from the chart. Then, proceed to choose the proper shaft flex and grip size from the succeeding charts. With this information, begin choosing the options wanted on any of the product pages. For reference purposes, there are charts that show the "standard" measurements for men's and women's clubs.
The product pages are very clearly laid out to assist in choosing the club options that are desired. One of the first things a golfer will notice is the large selection of options, selections that are not available on many brand name golf clubs. All the necessary technical data is provided for each club model, such as material, loft, lie, color, etc.
The Redwing website is very complete with all the references required for shipping charges, contact information, expert advice and warranties. It's interesting to note that Redwing's clubs are covered by a life time warranty under conditions of normal use.
Browse their catalog at Golf Clubs
###